Ontario Tech announces 2023 Joyce Family Foundation Success Award recipients
Awards presented to two incoming students: one in Health Science, the other in Nuclear Engineering
July 21, 2023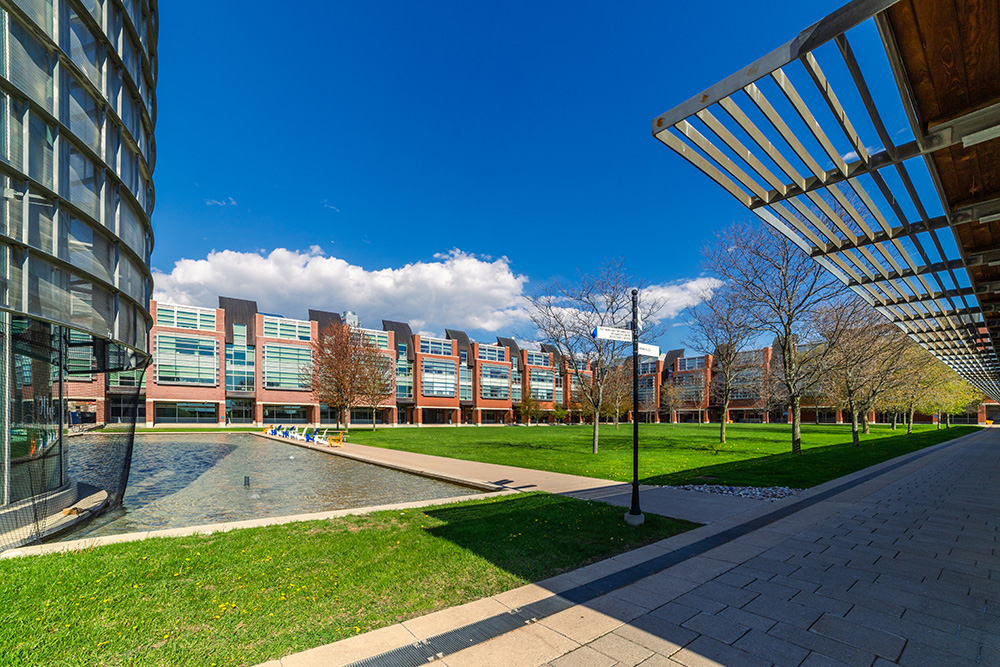 Over Ontario Tech's first two decades, the university has established a culture of community support for student success through a growing base of philanthropic groups and individuals. Among these generous organizations is The Joyce Family Foundation, a private, family foundation created by the late Canadian entrepreneur Ronald V. Joyce, whose philanthropy reflected a deep-rooted sense of responsibility to give back to his community. 
In 2016, a donation of $1 million from The Joyce Family Foundation to Ontario Tech established two new awards to help students to turn their dream of post-secondary education into reality. The Joyce Family Foundation Success Awards, and The Joyce Family Foundation Success Award in Honour of Mike Harris, support first-year students from Durham Region and Northumberland County attending Ontario Tech.
Every year, two students each receive a $4,000 award, renewable annually over four years, based on set academic criteria.
Students receiving this award have achieved academic excellence in their final year of high school and come highly recommended by their teachers and guidance counsellors. In their first year at the university, the Joyce Family Foundation Award recipients are invited to participate as mentees in the Office of Student Life's Mentorship program and will be encouraged to act as mentors in subsequent years.
Ontario Tech thanks the Joyce Family Foundation for its generous donation that makes these awards and student aspirations possible.
Ontario Tech is excited to announce the 2023 recipients:
Zahra Afzali of Oshawa
Ali Machrafi of Oshawa
Zahra Afzali
We are excited to welcome Zahra to Ontario Tech University this fall as a student in the Health Science program. As an immigrant from Afghanistan, Zahra has faced challenges, but as a graduate of Ajax High School she achieved academic success in all her courses, particularly in Science, Technology and Math. Zahra is the first person in her family to attend university. She is described as a positive role model and has many formidable leadership qualities that she exhibited at her high school.
Ali Machrafi
Ali, a graduate of O'Neill Collegiate and Vocational Institute, is described as an original thinker who loves the challenge of a problem. Ali has been a great mentor to the student community. He created a Jeopardy club and led weekly trivia sessions, and was a member of the robotics club. To help younger students struggling with online learning during the pandemic, he began leading tutoring sessions, helping a few students with their homework. The group grew to 40 students and with the permission from his school, it became an official club. Ali is coming to Ontario Tech University to study Nuclear Engineering.
Past Joyce Family Foundation Award winners
Alexis Marges – 2022 (Whitby, Henry Street High School; Forensic Psychology)
Morsal Moradi – 2022 (Ajax, J. Clarke Richardson Collegiate; Nursing)
Ashwin Gnanaseelan – 2021 (Oshawa, Maxwell Heights Secondary School; Computer Science)
Lauren Shields – 2021 (Bowmanville, Clarington Central Secondary School; Health Science)
Angela Karimzad – 2020 (Bowmanville, Bowmanville High School; Biological Science)
Sophia Tucker – 2020 (Uxbridge, Uxbridge Secondary School; Forensic Science)
Shabana Azizi – 2019 (Oshawa, R.S. McLaughlin Collegiate and Vocational Institute; Biological Science)
Kristin Davidson – 2019 (Whitby, Anderson Collegiate Vocational Institute; Health Physics and Radiation Science)
David Cucuteanu – 2018 (Courtice, Kingsway College; Forensic Psychology)
Rebecca Mosaad – 2018 (Whitby, Father Leo J. Austin Secondary School; Health Science)
Gemma Tyner – 2018 (Brooklin, Brooklin High School; Forensic Psychology)
Dawson Fraser – 2017 (Uxbridge, Uxbridge Secondary School; Forensic Science)
Quinlan Palmer – 2017 (Port Hope, Port Hope High School; Health Science)
Kurtis Collins – 2016 (Oshawa, Monsignor John Pereyma Catholic Secondary School; Automotive Engineering)
Lorena Diaz – 2016 (Whitby, All Saints Secondary School; Medical Laboratory Science)