Ontario Tech students showcase projects at annual Engineering Capstone Systems Design Exhibition and Competition
Engineering students exhibited their innovative projects and competed in the top award categories
July 27, 2023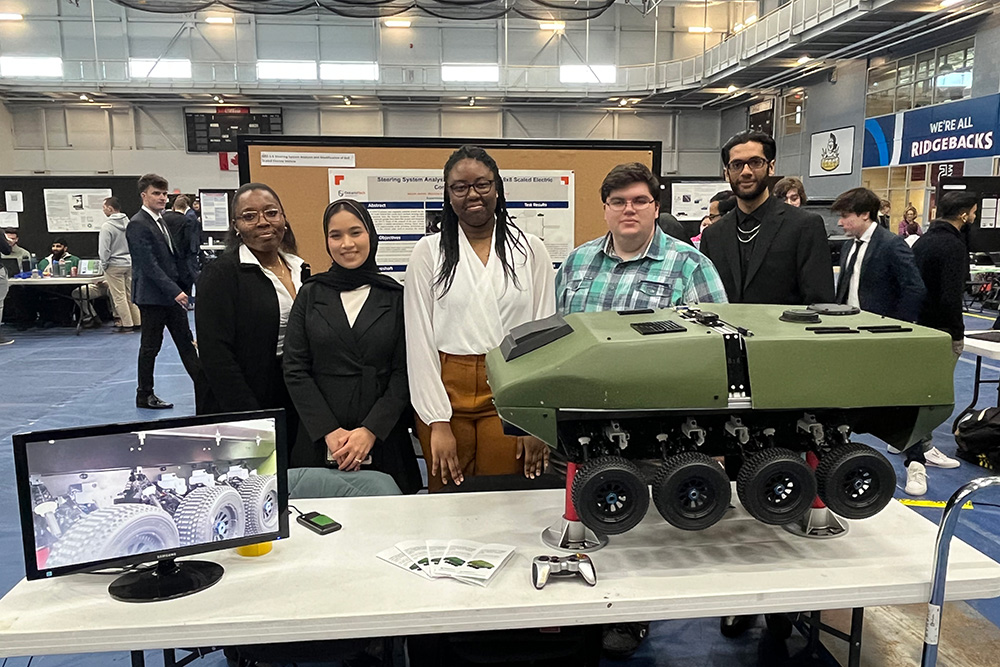 Engineering students at Ontario Tech are making headlines and culminating their studies with projects that promise to solve real-world problems.
In the Faculty of Engineering and Applied Science (FEAS), fourth-year students collaborate in groups to tackle a significant undertaking called a 'capstone' project. This eight-month endeavour focuses on developing creative and practical solutions to address real-world challenges. Towards the end of their final semester, students present their research findings and achievements at the annual FEAS Capstone Exhibition and Competition.
The capstone project allows fourth-year engineering students to showcase and apply all they have learned in their respective programs. The event took place April 10 in the Campus Recreation and Wellness Centre gymnasium and was made possible in part through the generous support of partner sponsor The Society of United Professionals and supporting sponsor SNC-Lavalin.
This year's projects were so impressive, they garnered the attention of Global News Durham who interviewed students and featured their projects, including: a remote control excavator, electric vertical (EV) aircrafts, autonomous indoor farming solutions (Moduleaf), a wireless charging bot for electric vehicles and more.
Awards were given to the top three teams in each of the following categories:
Department of Automotive and Mechatronics Engineering (AME) and Department of Mechanical and Manufacturing Engineering (MME) design award, Department of Electrical, Computer and Software Engineering (ECSE) design award and Department of Energy and Nuclear Engineering (ENE) design award.
Congratulations to all who participated, and the best of luck as they navigate the next chapter in their lives, whether it is to pursue a master's degree or to apply their knowledge in the workplace.
Award winners
AME/MME Awards
First Place: Design and Development of Internet of Things (IoT) Enabled Vibrating Monitoring Toward Smart Maintenance
Ayman Abdulkadir
Mark Lopez
Ina Shilbayeh
Faculty Advisor: Dr. Ahmad Barari
Second Place:  Autonomous Weed Control Bot
Abigail Giebrecht
Cole Levere
Justin Smith
Natalie Shears
Allison Yuen
Faculty Advisor: Dr. Sayyed Ali Hosseini
Third Place: Environmental Simulating Fixture for an Automated Running Board
Deepikka Ananthamanokaran
Vernon Chen
Paheirathan Panchalingam
Qays Sajad
Nilojan Stanley Julius
Faculty Advisor: Dr. Zeinab El-Sayegh
ECSE Awards
First Place: Autonomous Inspection System with Drone for SmartGrid Infrastructure
Chaudhry Aamer
Khodr Dabbous
Adeeb Khan
Faculty Advisor: Dr. Hossam Gaber
Second Place: Low-Cost Drone Light Show
Michelle Cheng
Rodaba Ebadi
Munazza Fahmeen
Nivetha Gnaneswaran
Tolu Elebute
Faculty Advisor: Dr. Lixuan Lu
Third Place: Smart Grid Integrated Digital License Plate
Yussef Elzein
Emran Soltani
Walid Ayub
Abdul Bhutta
Kumail Syed
Faculty Advisor: Dr. Tarlochan Sidhu
ENE Awards
First Place: Design of a Welding and Plasma Torch Diagnostic System
Joey Almon
Riju Mathew
AJ Ayed
Tristian Eagleson
Khaushal Elangeswaran
Hussein Hussein
Faculty Advisor: Dr. Glenn Harvel
Second Place: Design for Reduced Heat Flow to Local Water Bodies
Emily Armstrong
Mark Degroot
Adam Kourousis
Keegan McCaig
Zoe Michanos
Faculty Advisor: Dr. John Froats
Third Place: Design of Nuclear Systems to Enhance Community-Specific Support in Northern Canada
Andrea Noce
Nehal Shams
Mark Tsai
Benjamin Wang
Luke Yurczyszyn
Faculty Advisor: Dr. Glenn Harvel and Dr. Dan Hoornweg
Award for Outstanding Energy Capstone Design sponsored by the Society of United Professionals Capstone Design Competition 2023

New Vertical Wind Turbine Integrated with Electrolyzer for Hydrogen Production
Eren Dincer
Alex Johnston
Jacob Pirillo
Justin Posteraro
Reign Sampang
Faculty Advisor: Dr. Martin Agelin-Chaab
Gallery