Ontario Tech researcher exploring the next tech frontier for smart devices reappointed as Canada Research Chair
Dr. Khalid Elgazzar is a leading national expert in the Internet of Things
August 29, 2023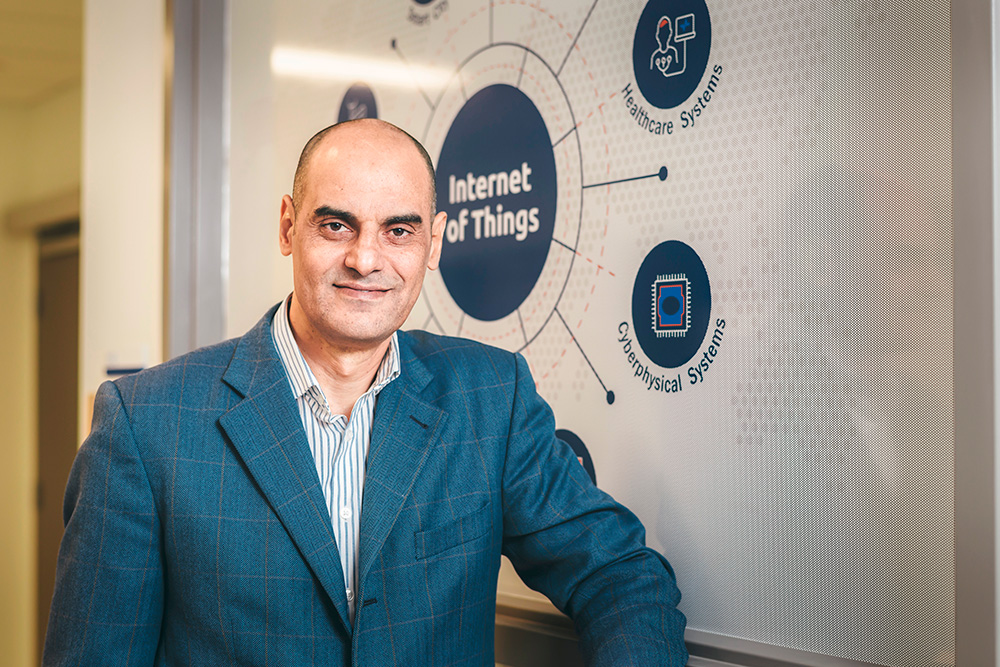 OSHAWA, ONTARIO – The rapid expansion of wearable, embedded and 'smart' devices with wireless connectivity (through protocols such as Wi-Fi or Bluetooth) continues to revolutionize the way we work and live. Billions of devices or 'things', from electronics to pacemakers to our home appliances, can be programmed to operate autonomously or connect and exchange data device-to-device, often with minimal human involvement.
Ontario Tech University researcher Dr. Khalid Elgazzar is the Canada Research Chair (CRC) in the Internet of Things (IoT). As a leading IoT expert in Canada, Dr. Elgazzar uncovers new information on the expansion of Internet-enabled computing devices and explores applications for the seamless interaction of 'smart' services in areas such as health care, transportation, industrial automation, emergency response and law enforcement. 
For his outstanding record of IoT research achievement and discovery, the Government of Canada is renewing the Ontario Tech Faculty of Engineering and Applied Science researcher's CRC appointment for a new five-year term, retroactive to January 1, 2023. Dr. Elgazzar is one of 11 CRCs at Ontario Tech recognized by the CRC program as a leading national expert in their research discipline (10 CRCs are currently active, one is in-development).
How Dr. Elgazzar's CRC program benefits Canada
Improved decision-making: By leveraging artificial intelligence (AI) and real-time data analytics, Canadian businesses and organizations can make more-informed decisions to help improve efficiency, productivity and competitiveness.
Increased automation: The identification of repetitive tasks in industrial manufacturing will free up employees to focus on more-strategic and high-value activities, and set a leading example on how to better implement Industry 5.0 (also called the Fifth Industrial Revolution, which sees humans working alongside AI-powered robots and advanced technology to enhance workplace processes).
Improved customer experiences: Through IoT research and analytics, businesses can gain deeper insights into customer behaviors and preferences.
Innovation and economic growth: The stimulating of Canada's technology sector will lead to the creation of new products, services and business models, helping Canada maintain a global competitive edge.
Dr. Elgazzar's CRC research achievements
Promoted widespread IoT adoption as a new standard of everyday computing, reducing barriers for businesses and individuals wishing to embrace this new technology.
Built an open and interoperable platform to support the creation, maintenance and operation of IoT environments, robust device- and service-discovery protocols at the lower levels of the IoT protocol stack (combination of technology, equipment and components), and privacy-preserving and access-control techniques.
Published more than 130 articles in leading journals and premier international venues; trained 24 highly qualified personnel; contributed to policy-making at the federal and regional levels, and established community partnerships to support 'smart' living.
Partnered with many community and industrial partners to develop new solutions to scientific challenges and demonstrate the role of advanced technology in real-life applications. In many cases these resulted in either commercial products added to the portfolios of partners or a successful prototype demonstrating the usability and feasibility of the technology to stimulate further explorations.
2023-2028 research objectives
Demonstrate the real-value proposition of IoT through the convergence of intelligent real-time sensing and AI-powered data analytics.
Explore innovative opportunities in different domains of application for IoT through the design, development and implementation of cutting-edge technologies in multiple real-life applications (e.g. 'smart health care', 'smart cities', industrial automation) to revolutionize the way people carry out their daily business.
Four core research directions:

Transforming the future of health care with real-time data access and patient-oriented data analytics.
Making public sensing (collection and analysis of information about the environment, infrastructure, health, or other aspects of public interest) a mainstream everyday standard for ubiquitous data access and crowdsensing.
Bringing 'smart cities' into reality with advanced technology to collect, analyze, and share data to improve the efficiency and effectiveness of city services.
Stretching the boundaries of industrial IoT by embracing interoperability, leveraging 'edge computing', and utilizing AI to improve operational efficiency, predictive maintenance, and more-effective decision-making.
Selected links related to Dr. Elgazzar's research
Related links
Quotes
"While there are so many vital developments unfolding in the Internet of Things, it is imperative that we continue to transform reliable real-time sensor data to help make informed choices about how these technologies can make our lives safer, smarter and more productive. We also need to be wary of how IoT adoption requires addressing all user-privacy concerns and all security considerations for authorization control systems."
-Dr. Khalid Elgazzar, Ontario Tech University's Canada Research Chair in the Internet of Things
"The successful renewal of the Canada Research Chair for Dr. Khalid Elgazzar reflects the importance of his research on the Internet of Things and how Canadians can function in a more-connected, efficient and innovative modern world. Dr. Elgazzar is at the forefront of his research discipline, with a firm focus on developing a 'technology with a conscience' approach. His work has the capacity to be hugely impactful through the exploration of new opportunities that will benefit individuals, businesses and industry."
-Dr. Les Jacobs, Vice-President, Research and Innovation, Ontario Tech University
About the CRC program
Established in 2000, the Canada Research Chairs program provides prestigious awards to help Canadian universities attract and support outstanding researchers and key members of their research teams in the priority research areas of environmental sciences and technologies, natural resources and energy, health and related life sciences and technologies, and information and communication technologies.
Tier 1 Chairs are outstanding researchers acknowledged by their peers as world leaders in their fields. Valued at $1.4 million, appointments are for seven years and are renewable.
Tier 2 Chairs recognize exceptional emerging researchers, as judged by their peers, with potential to lead in their field. Valued at $500,000, appointments are for five years and renewable once.
Media contact
Bryan Oliver
Communications and Marketing
Ontario Tech University
289.928.3653 (mobile)
bryan.oliver@ontariotechu.ca