Ontario Tech University celebrates first Amgen Scholar
James Lisondra's undergraduate research experience at Ontario Tech earned him a spot in prestigious scholarship program, and a place in medical school
August 11, 2023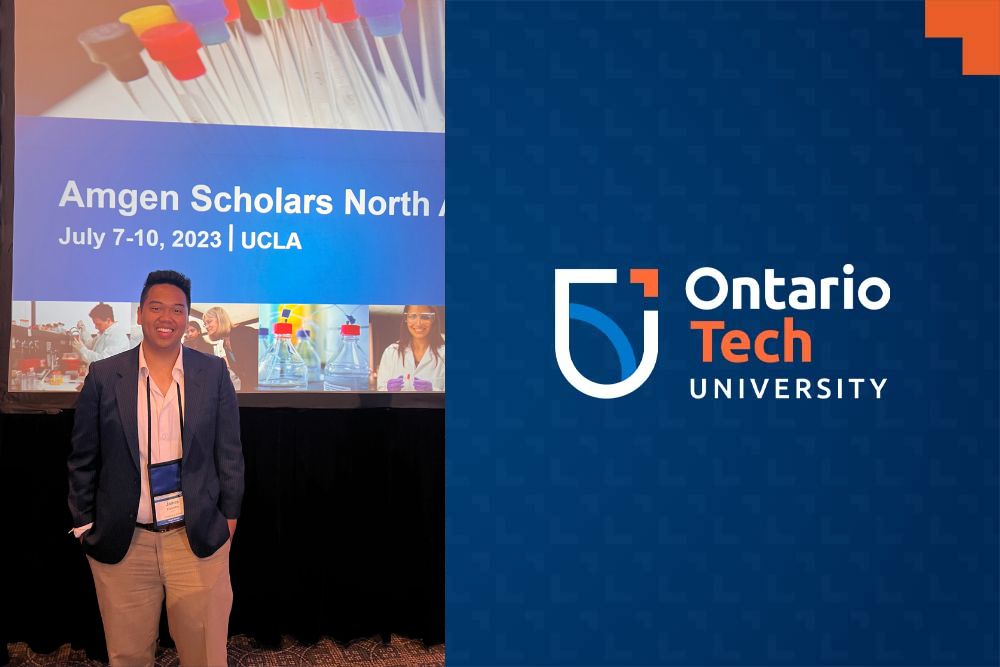 James Lisondra can add an impressive accolade to his resume: First Ontario Tech University student to participate in the Amgen scholarship, a prestigious program run by Harvard University and hosted by the University of Toronto.
Lisondra, a current undergraduate student who recently completed three years in the Faculty of Science's Life Sciences program, has embarked on an exciting journey this summer, as his accomplishments and dedication earned him a coveted spot in the prestigious Amgen Scholars Canada Program.

The Amgen Scholars Canada Program offers a fully funded opportunity for undergraduate students across Canada to participate in cutting-edge biomedical research at the University of Toronto. The program includes a $6,500 stipend for the 10-week research experience and provides exposure to professional development activities and social events.

Lisondra says his interest in research blossomed during his studies at Ontario Tech and now has led him to pursue medical school at the University of Ottawa in September.

"At first, I didn't really know much about research," Lisondra says.
While at Ontario Tech he decided to participate in the Undergraduate Research Awards and completed 12 weeks of research under the supervision of an Ontario Tech Faculty of Health Sciences Professor, Dr. Ginny Brunton. In addition, he completed two-semesters of the Research in Biological Science project course with Dr. Janice Strap from the Faculty of Science.
"Exposure to a wet lab environment with Dr. Strap's support helped me learn more about the nuances of working with microorganisms. This eventually led to a particular interest in HIV infections," he says.

This newfound interest in research led Lisondra to apply to the Amgen scholarship program, where he has been working at the MAP Centre for Urban Health Solutions at St. Michael's Hospital in Toronto.

"My research is looking at this drug called HIV pre-exposure prophylaxis (PrEP). Basically, we're looking at how that impacts the patient's renal function and how we can improve current clinical practice to deliver cost-effective, patient-centered PrEP care."

Lisondra's research project holds both clinical and societal importance, as he focuses on the impact of PrEP on the kidney function of mainly LGBTQ+ patients in Toronto.
Lisondra also recently participated in the Amgen Symposium at University of California, Los Angeles (UCLA).
"At the conference I got to meet more students from schools like Harvard, Princeton. I also got a chance to share more about Ontario Tech to the other students who weren't aware of what it was, and to talk about the research that's done here."
Lisondra expressed his gratitude towards Ontario Tech and the support he received during his studies.

"I always tell people that the vibrant community and academic experience at Ontario Tech inspired me to pursue this scholarship. It has also been a huge factor in my journey to medical school. I honestly couldn't have done it without the opportunities open to students at this university."
As Lisondra looks forward to starting medical school, his time in the Amgen Scholars Canada Program has instilled a new ambition in him. His new desired career path combines both research and clinical practice, a perfect fusion of his passions and a reflection of Ontario Tech's emphasis on experiential learning.
"I now lean towards pursuing a PhD when I'm done, with my MD, to become a clinician scientist."