Spending summer vacation competing on the international stage: Ontario Tech students representing Canada at a World Championship event
Five undergrads and one alumna competing in the Nations Cup and World Baton Twirling Championship
August 4, 2023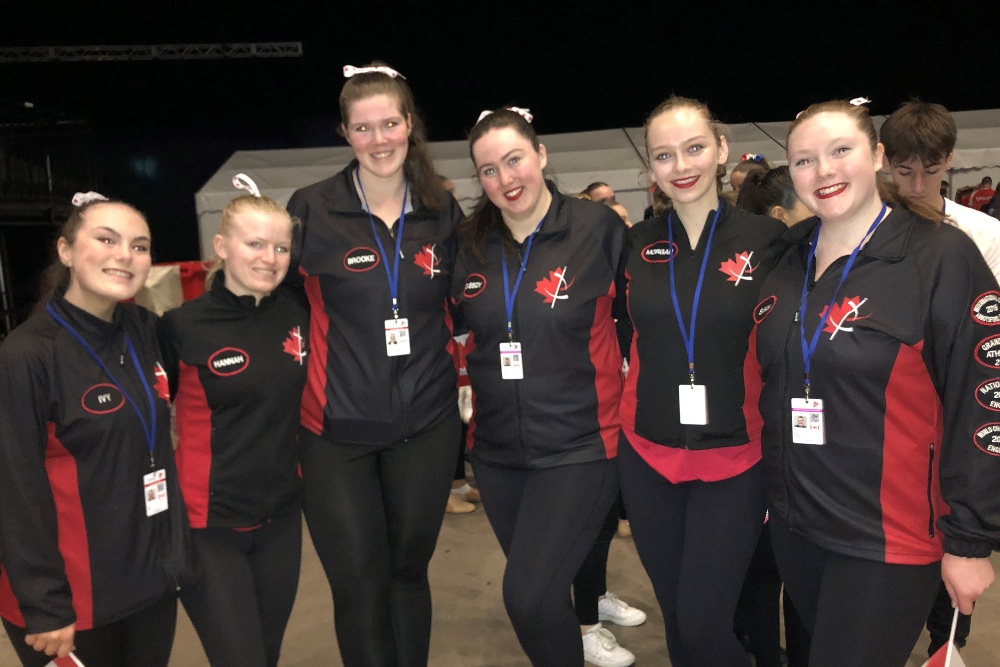 Ontario Tech University will have strong representation overseas as they compete for Canada at the International Baton Twirling Federation's Nations Cup and World Championship in Liverpool, England from August 4 to 13.
Five current Ontario Tech students and a 2022 graduate, representing three different faculties, will represent Team Canada and compete in individual and team categories.
Ontario Tech University students representing Canada:
Ivy Bell, second-year Bachelor of Science (Forensic Science, specializing in Chemistry)
Morgan Dixon, fourth-year Bachelor of Health Science (Human Health)
Cassidy Doherty, Bachelor of Commerce graduate (Class of 2022, major in Human Resources, minor in Marketing)
Sarah Doherty, fourth-year Bachelor of Health Science (Kinesiology)
Hannah Lywood, third-year Bachelor of Health Science student (Kinesiology)
Brooke Randall, second-year Bachelor of Science (Integrative Neuroscience)
All of the students advanced to the Nations Cup and World Baton Twirling Championship after the Canadian Baton Twirling Federation's Team Canada qualifier competition, which was held in the gymnasium at Ontario Tech's Campus Recreation and Wellness Centre in May.
Spotlight: Hannah Lywood
"All of us have been involved in baton since our elementary school years, and continue to practice and train at least 12 hours a week," says Hannah Lywood, who is a student Research Assistant this summer in the lab of Faculty of Health Sciences researcher Dr. Meghann Lloyd. She is also a Peer Tutor at Ontario Tech. "All of us on the team have worked so hard to get to the Worlds, fitting in all of that preparation time around our university studies."
Although it is not a varsity team sport for Canadian universities, baton twirling is a highly organized sport with many international associations and a long history tracing back hundreds of years to Western Europe and Asia. There will be 2,350 athletes from 21 countries competing in Liverpool.
"It's wonderful to be able to represent your country, something I was able to able to first experience in 2019 at the International Cup in France," says Lywood, whose long interest in physical activity and sport inspired her decision to pursue a degree in Kinesiology. She has a longer-term goal to ultimately work with children with disabilities. "You are always striving to learn things, whether you are a student in the classroom and lab, or practising for a major competition. Balancing it all, academics and outside interests, takes a lot of organization and hard work, but it's rewarding for all of us."
The graduate of Anderson Collegiate in Whitby is following the twirling legacies of her mother and aunt, who will be cheering Hannah and her teammates on to success in Liverpool.
Related link