Ontario Tech University celebrates 20 years
Year-long 20th anniversary will celebrate and highlight two decades of milestones and accomplishments
September 4, 2023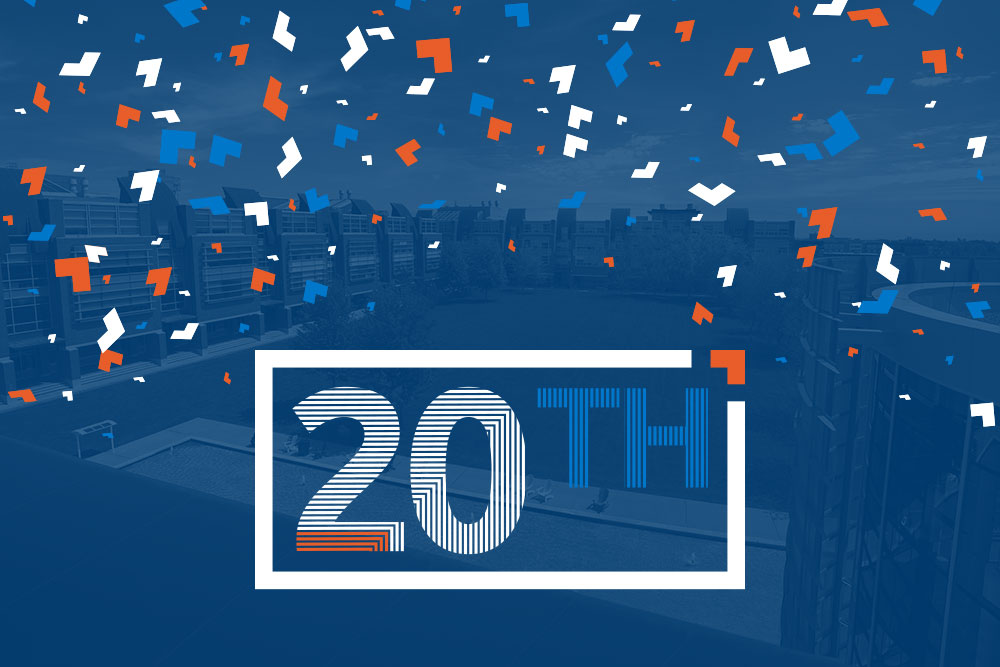 Since first opening its doors on September 4, 2003, Ontario Tech University has grown into a highly sought-after post-secondary education institution for learning, teaching and working. With more than 11,000 students, 29,000 alumni and 2,500 employees, the university has an amazing story to tell—one that spans two decades of incredible milestones and accomplishments.
The university will kick off its year-long 20th anniversary with a BBQ for the campus community on Thursday, September 7. Throughout the year, numerous events and initiatives will showcase the university's past, present and future, as we celebrate with students, faculty, staff, alumni, partners, donors, the community and beyond.
From humble beginnings to a thriving university
On opening day in 2003, Ontario Tech enrolled an inaugural class of 947 students. Over the years, the university has evolved and experienced rapid growth in enrolment, academic and recreational programming, student support, infrastructure, donations, partnerships and research grants. Throughout it all the university has stayed true to its ethos: understanding and using technology for the betterment of society.
"Ontario Tech declared itself the province's first 'laptop-based' university when it opened, but as we all know, technology changes rapidly and relentlessly, and it remains at the heart of all that we do," says Dr. Steven Murphy, President and Vice-Chancellor. "What hasn't changed at Ontario Tech since Day 1 is our university's focus on tech with a conscience, and our mission to improve the lives of humans and the planet through its ethical application."
Excellence in teaching and learning has always been a cornerstone of the university. It has undeniably been a leader among its peers in adapting to the ever-changing educational landscape by prioritizing experiential learning opportunities through various methods, in partnership with employers and industry.
Today, the university delivers 115 market-driven undergraduate and graduate degree programs, all complemented by entrepreneurial resources like the Brilliant Catalyst startup incubator.
"That's really a differentiator in the Ontario Tech student experience, and a primary reason why our graduates are not just set to make a positive impact in a tech-focused world; they're also equipped with the savvy to adapt to rapid technological change. Nothing prepares you for the working world in the same way as starting your own venture," says Dr. Murphy. "Our students arrive in the workplace with tons of experience and knowledge under their belt. That's what employers are looking for: people who are career-ready, and prepared to outwork and outhustle their competitors."
Accelerating regional development and economic growth
Ontario Tech is now among Durham Region's Top-10 employers, with more than 2,500 faculty and staff, across all full-time and part-time categories.
The university's research imprint is substantial: hundreds of leading faculty experts generate more than $23 million in annual research income, to go alongside more than 500 industry and community partnerships.
Research Infosource named Ontario Tech one of Canada's Research Universities of the Year, and the Times Higher Education (THE) placed the university at No. 3 among Canada's youngest universities.
"Realizing what we have now, and didn't have in the community 20 years ago, it's impossible to imagine Durham Region without Ontario Tech University," says Dr. Murphy. "We consistently punch above our weight in rankings, competitions, research and more. We're proud of our entrepreneurial spirit and we're confident in who we are, and where we are headed. Our story is only beginning."