Ontario Tech University strengthens international ties with Australian agreement
University of Technology Sydney exploring further collaborations with Ontario Tech
August 27, 2019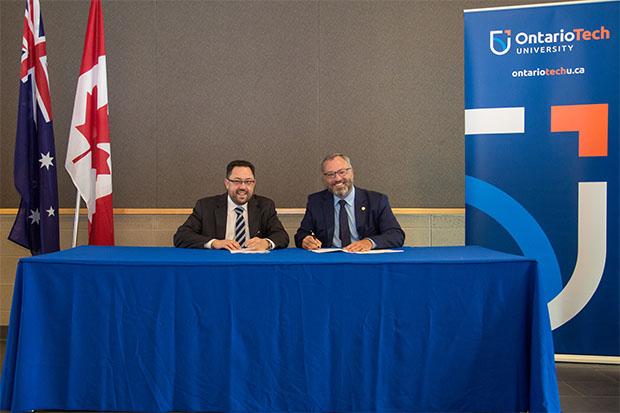 As one of Canada's newest research universities, Ontario Tech University works collaboratively with its many partners to deliver innovative research and discovery results with measurable impact to improve the overall well-being of our communities.
With long-established research relationships throughout the eastern Greater Toronto Area and across the province, Ontario Tech boasts an expanding international research portfolio. Adding to dozens of global partnerships, it's exploring stronger ties Down Under with counterparts at University of Technology Sydney (UTS).
On August 21, Ontario Tech hosted delegates from UTS, the Australian Consulate General and the Australian Trade and Investment Commission for campus tours and discussions on future research collaborations.
The universities also announced their first formal agreement: a Joint Research Centre (JRC) in Artificial Intelligence (AI) for Health and Wellness. The agreement will allow eligible students and faculty members from each university to attend the other institution to conduct JRC-related activities. Students will benefit from comprehensive supervision from experienced researchers at both universities.
The JRC will focus on creating innovative ways to assess and improve health, wellness, resilience and adaption through world-leading research in:
Data analytics, with a focus on Big Data analytics and AI.
Internet of Things (the interconnection of Internet-enabled computing devices embedded into everyday objects).
Stream computing (the ability to capture and analyze data from multiple sources in real time, and derive insights from that data to make faster and better decisions).
Cloud computing (delivery of computing services over the Internet).
'Serious' games that simulate real-life experiences, used for practical applications such as teaching.
One of the JRC's key projects is an international collaboration for new personalized resilience training for first responders and health-care workers. This project builds on the work Carolyn McGregor AM, PhD, Research Excellence Chair in Health Informatics and Professor in Ontario Tech's Faculty of Business and Information Technology, has conducted with firefighters and Canada's Department of National Defence. Both institutions are working to bring this health analytics training to nursing students so they understand how their bodies react to workplace stress.
In the future the JRC agreement may expand to include research in:
advanced manufacturing
biomedical engineering
space and remote medicine
Dr. McGregor, a luminary alumna of UTS in her home country, will co-direct the JRC together with Professor Paul Kennedy, Head of Discipline (Data Analytics), School of Computer Science, UTS.
Other potential areas for collaboration between Ontario Tech University and UTS include:
Joint international PhD program (known as a 'cotutelle').
New international research projects involving Ontario Tech's ACE, along with the faculties of Business and Information Technology; Energy Systems and Nuclear Science; and Health Sciences.
Internal summer exchange opportunities and internships for undergraduate students.
Postdoctoral fellowship opportunities.
Website and social media collaborations.
Availability of Ontario Tech Nuclear Engineering and Information Technology courses to UTS (such as Ethics in Artificial Intelligence and Machine Learning)
Quotes:
"We were honoured to welcome our colleagues from the University of Technology Sydney to Ontario Tech University for the signing of this important collaborative agreement. I'm very excited to bring together two young, like-minded institutions that are focused on technology for good, to improve the planet and to improve people's lives. Together we have the ability to deliver on synergies to impact Canada and Australia, particularly in the area of artificial intelligence for health and wellness." 
- Dr. Steven Murphy, President and Vice-Chancellor, Ontario Tech University
"Ontario Tech and UTS already have a strong track record of research in the areas of artificial intelligence and data analytics in the area of health and biomedical. It's exciting to now formalize our research co-operation via this JRC agreement, which will enable more researchers and students from both institutions to work together. The JRC will be in excellent hands under the leadership of Dr. McGregor and Professor Kennedy. For our faculty, the JRC is also a promising step in terms of research co-operation between both our countries and we look forward to shared positive outcomes of the joint research."
- Professor Michael Blumenstein, Associate Dean, Research Strategy & Management, Faculty of Engineering and IT, University of Technology Sydney
Gallery