Is social media helping or hindering our understanding of scientific discovery?
Recent Ontario Tech PhD graduate and current PhD candidate analyze social media trends in new journal paper
March 31, 2021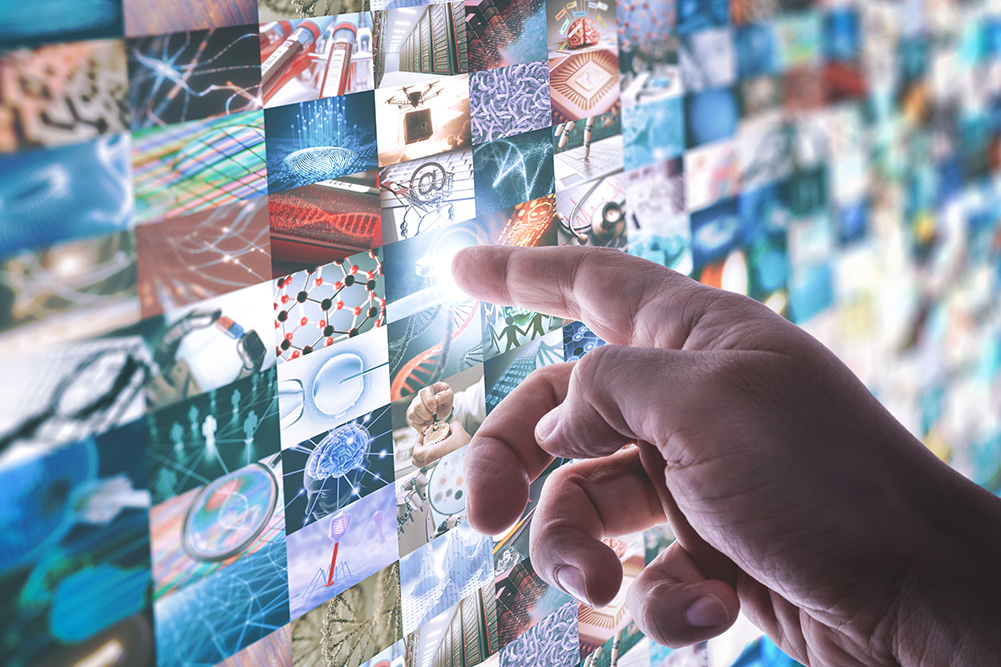 The sheer math behind how much information humans try to process is staggering: the human body sends 11 million bits of data per second to the brain, yet the conscious mind is only able to process about 50 bits per second.
In the 21st century, there's more information coming our way 24/7 than ever before. One of most recent chapters in the human experience is the advent of technology and our immersion in social media. When one considers that social media as we know it today didn't really exist 15 years ago, it's remarkable we now spend an average of about 2.5 hours on social media every day. Some of us are scanning through our favourite platforms for even longer stretches in our 'connected' world.
Dividing an infinite amount of information with humans' limited capacity to consume so much data, it becomes clear that getting a social media post to 'stick' in someone's mind, or even getting them to click on a link, is a huge challenge. What are communicators, especially science researchers, to do when trying to engage social media users who may have short attention spans?
It's a question being explored at Ontario Tech University by Dr. Sarah Habibi, a recent Applied Bioscience PhD graduate who is now a Faculty of Science Research Associate, along with current PhD candidate Lidya Salim.
"While the communication of science is more widespread than ever thanks to Web 2.0 technologies like social media, there is very little research to show the type of communication driving the highest level of engagement," says Dr. Habibi. "We examined Instagram and TikTok, two platforms popular with younger demographics, to measure how users engage with science when the content is presented in static versus dynamic ways."
The study, posted March 31 in PLOS ONE (Public Library of Science), a high-impact open-access journal, discusses the role of educational science content (ESC) presented by science communicators on social media at the height of the 2020 COVID-19 global pandemic.
"By analyzing metrics such as comments, likes, shares, saves and total number of views, we discovered social media users interact with ESC significantly more when the content is presented in dynamic ways with a component of experimentation," says Dr. Habibi.
TikTok vs Instagram: General findings
The researchers made use of the in-app analytic tools to quantify ESC engagement levels. Dr. Habibi developed a method that effectively allows researchers to compare results within and between social platforms.
On TikTok, the research finds that ESC video posts, which include hands-on demonstrations and a series of easy-to-understand experimental steps, results in the highest number of views (over 3 million total) and shares. However, shorter quick-fact videos have the greatest chance of hooking the viewer in for the full video length.
"TikTok is a platform users turn to in order to get information at accelerated rates, and therefore user attention span is very short," says Dr. Habibi. "Shorter videos are more appealing here, so a science communicator needs to keep videos under 15 seconds."
With Instagram being primarily a photo-sharing application, user expectations are different.
"With Instagram as well, dynamic experimental videos generate more engagement and acceptance than static images accompanied by wordy captions," says Dr. Habibi. "In this sense, 'less (content) is more' if one wants to engage their audience. The analytics confirm videos may reach larger audiences on TikTok, while engagement through comments and shares is deeper with Instagram."
About the publication authors
Two women within Ontario Tech's Faculty of Science conceptualized, wrote and published this research study independently from Ontario Tech University supervisors, and without any specific funding.  
Sarah Habibi holds three degrees from Ontario Tech. The 2011 graduate of Sandalwood Heights Secondary in Brampton, Ontario earned a Bachelor of Science in 2015 and a Bachelor of Education (focusing on science topics for secondary school students) in 2016, before completing her Applied Bioscience PhD in Fall 2020. As a PhD candidate, she won the university's Three Minute Thesis competition in 2019. She also highlights her commitment to science communication and STEM education on her Instagram profile Science.Bae.


Lidya Salim holds two degrees from Ontario Tech. The Venezuela native earned her Bachelor of Science in 2016, and will be soon graduating with a PhD in Applied Bioscience. Lidya is committed to student success in the sciences through her roles as the primary co-ordinator of the Science Café program within the Faculty of Science and her Instagram profile STEMthusiast.
---
Media contact
Bryan Oliver
Communications and Marketing
Ontario Tech University
289.928.3653
bryan.oliver@ontariotechu.ca