Ontario Tech: A university in its element on hydrogen energy research
Ontario Tech helping chart Canada's path forward on clean and green energy alternatives
March 18, 2021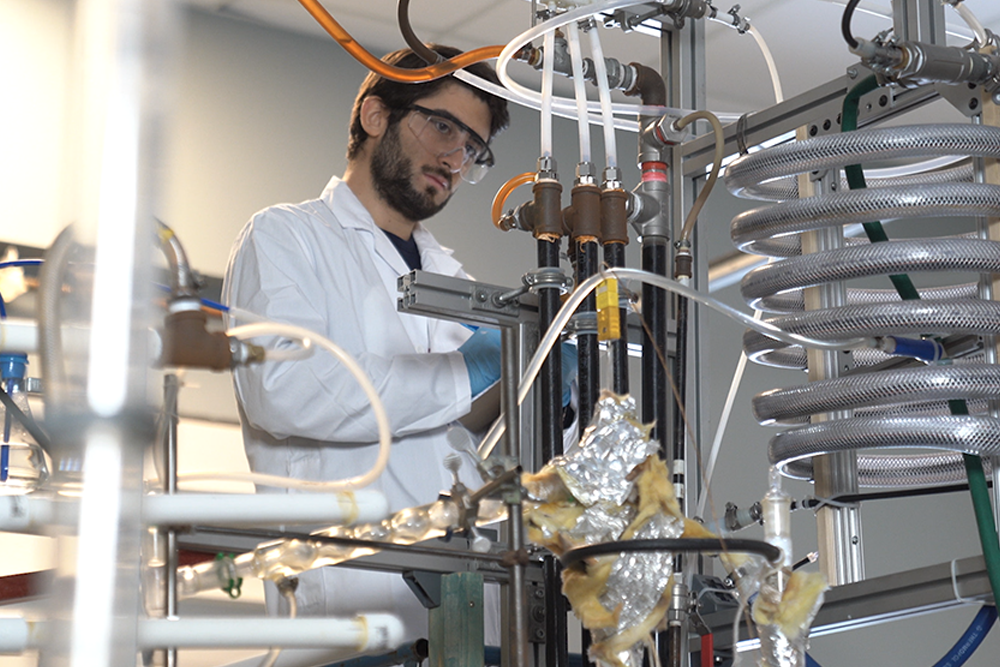 Canada is facing a watershed moment on its energy future. Ask Canadians what they think about the balance between traditional fossil fuels and the development of renewable energy sources, and you're bound to get a variety of hard-held opinions.
In the 'Energy Crisis' days nearly a half-century ago, Canada and much of the world faced a sudden shortage of petroleum and endured escalating energy prices. With economies, industries and consumers ever more reliant on uninterrupted sources of energy, efforts to conserve fossil fuels began.
But securing supply and saving money wasn't the only objective. The ongoing combustion of hydrocarbons still generates enormous amounts of carbon dioxide (CO2) emissions, contributing to poor air quality, environmental health issues and elevated global temperatures. This in turn has driven glacial melting and rising sea levels.
Yet, here we are in 2021. Canadian news is full of stories about the merits of oil pipelines, people arguing about climate change, and politicians debating how to put a price on carbon emissions.
Where do we go from here?
According to a recent Senate Energy Committee report ('Decarbonizing Transportation in Canada'), about 85 per cent of Canada's 24 million road vehicles still run on gasoline or diesel. Government efforts to implement a carbon-pricing plan (opponents brand it a carbon 'tax') to subsidize the development of green energy solutions continue to face stiff headwinds from the oil and gas sector and many consumers.
The world's thirst for energy hasn't changed after all these years. If anything, energy demand is still growing, especially in developing countries. The question is, will future energy supplies be able to meet global demand?
We know that fossil fuel supplies will ultimately be unsustainable at some point in the future. We know that hydrocarbon combustion contributes to greenhouse gas emissions and influences climate change. The logical next step to ensuring a sustainable future is the development of new options for low-cost renewable energy sources like hydrogen, nuclear, solar, wind and biomass. Hydrogen could also be used to reduce carbon emissions in the oil and gas sector.
Ontario Tech University: At the forefront of clean energy research
As it approaches its 20th anniversary as a vital central-Canadian hub of research excellence and innovation, Ontario Tech University has established a compelling portfolio of research leadership and expertise in clean and green energy.
"Canada's energy and environmental future is among our strategic research priority areas for the next five years," says Dr. Les Jacobs, Vice-President, Research and Innovation at Ontario Tech University. "Energy systems, nuclear science, applied bioscience, mechanical engineering and environmental sustainability provide the research foundations at Ontario Tech to help unlock the potential of clean energy technologies. From small modular reactors to transportation electrification to hydrogen and fuel cells, advancing energy research is one of our strengths."
On March 16, the Government of Canada announced details of a strengthened energy partnership with Germany. That agreement will explore the joint development of green hydrogen from Canadian hydroelectric power for export to Germany (Natural Resources Canada news release, March 16, 2021). Leading international energy researcher Dr. Ibrahim Dincer of Ontario Tech's Faculty of Engineering and Applied Science, who has multiple ongoing hydrogen research projects at the university, will be among the contributors to future development of this international agreement.
Spotlight on hydrogen: Hydrogen is all about a sustainable energy economy
Hydrogen (H2) offers enormous potential as a clean energy carrier for applications that include transportation and batteries. Whereas hydrocarbon (fossil fuel) combustion produces a byproduct of harmful CO2, the combustion of hydrogen molecules (with oxygen) produces a byproduct of water (H2O) or water vapour, which doesn't harm the environment.
Unfortunately, about 95 per cent of the world's hydrogen is currently derived from hydrocarbons, by 'cracking' natural gas in a chemical process known as steam methane reforming. For every kilogram of hydrogen production in this process, 11 to 13 kilograms of CO2 is emitted into the atmosphere.
"What we need, to uncap hydrogen's potential as a source of clean energy, is to eliminate the carbon footprint of traditional hydrogen production and replace it with new affordable green production processes," says Dr. Jacobs. "Ontario Tech has been a pioneer in developing these processes and is poised to play a key role in Canada's future global leadership in the promotion of energy applications of hydrogen."
Hydrogen energy research at Ontario Tech
Ontario Tech recently established its Brilliant Energy Institute, which is positioned to be a change agent leading Canada's energy transition. This new research institute will harness the significant research and sectoral expertise at the university, in collaboration with other universities and industry partners, to mobilize Canada's transition to a sustainable energy future and change how Canadians utilize energy for daily life.
A key part of the university's energy research ecosystem is the Clean Energy Research Laboratory (CERL), which opened in 2010. As the leading research university in Canada on hydrogen energy, Ontario Tech researchers are developing cost-effective and carbon-free methods for hydrogen production, including:
The world's first lab-scale demonstration of a four-step copper-chlorine thermochemical cycle for water (H2O) splitting using heat from nuclear, solar or other heat sources such as waste/process heat from industrial plan emissions. The net reaction produces hydrogen and oxygen. The ingredients in the process are water, a copper-chlorine compound, and heat with temperatures ranging from 70 degrees Celsius to a maximum of 530 degrees Celsius.
Synthesizing and utilization of ammonia (NH3) as an energy source for fuel cells in transportation, marine, aviation, farming, pharmaceuticals and other applications.
"CERL is a vital centre of research, innovation and technology development where we are experimenting, modelling, simulating, prototyping, and scaling-up for eventual clean-energy commercialization with our industry partners," says Dr. Jacobs. "To date, CERL has attracted more than $20 million in research funding and filed nearly 20 patents and invention disclosures."
Ontario Tech has an impressive legacy of research leadership on hydrogen, including hosting a number of international conferences that assembled leading global hydrogen production experts in Oshawa. Most recently, the university hosted a one-day virtual workshop and panel discussion on January 14 on hydrogen challenges and opportunities.
"Ontario Tech's Brilliant Energy Institute with the Clean Energy Research Laboratory are leading the way in Canada on hydrogen," says Dr. Jacobs. "There's a lot of work to do in the years ahead on public education, but if we do this right, there is every reason to believe that alongside the nuclear industry, the evolution of clean hydrogen production will help Durham Region remain Ontario's energy capital for decades."  
Related Ontario Tech links for further learning:
Selected historical Ontario Tech news stories related to hydrogen/clean energy research
Media contact
Bryan Oliver
Communications and Marketing
Ontario Tech University
289.928.3653 (mobile)
Bryan.oliver@ontariotechu.ca
Gallery