International Atomic Energy Agency designates Ontario Tech as a Collaborating Centre
University becomes first Canadian institution to receive this international designation
May 6, 2021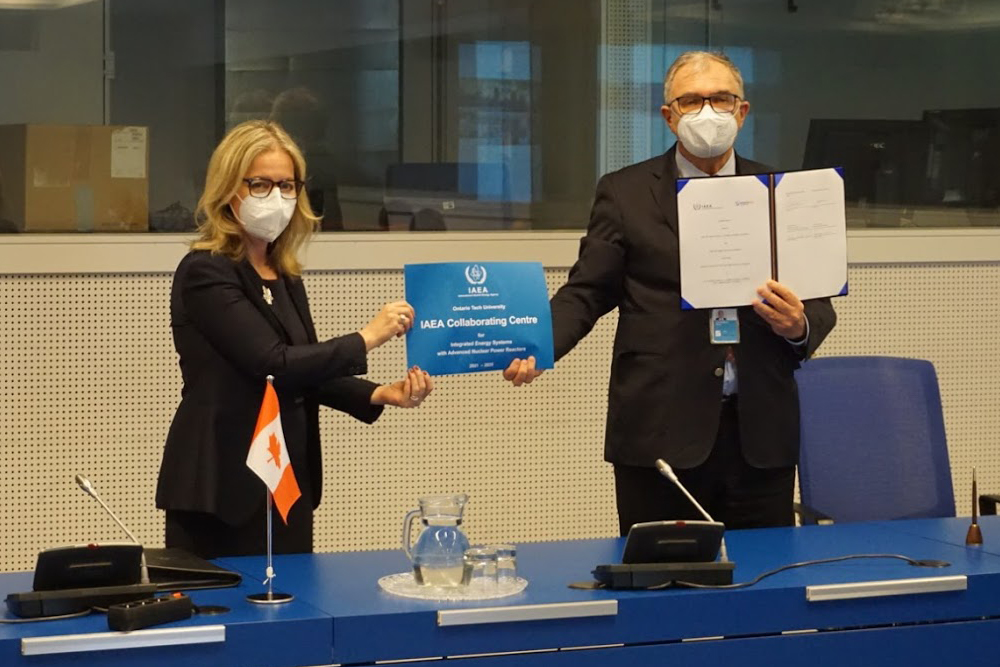 Ontario Tech University's strong reputation as a prominent centre of renewable and sustainable energy research and expertise is receiving a powerful new international endorsement.
The International Atomic Energy Agency (IAEA) confirms Ontario Tech's designation as an official Collaborating Centre in support of IAEA activities on integrated Energy Systems with advanced nuclear power reactors including small modular reactors (SMRs) as well as initiatives such as non‑electric applications of nuclear energy.
The designation, formalized in a virtual signing ceremony in Vienna, Austria and Oshawa, Ontario on April 22 by Ontario Tech President Dr. Steven Murphy, IAEA Deputy Director General Mikhail Chudakov and Canadian Ambassador Heidi Hulan makes Ontario Tech the first Canadian Collaborating Centre in the IAEA's international network. This network opens up a world of partnership possibilities that will spur energy innovation.
How Ontario Tech will contribute to the IAEA
Through the Collaborating Centre at Ontario Tech, the IAEA will tap into the deep international energy research expertise of the university's faculties of Engineering and Applied Science, and Energy Systems and Nuclear Science.
The partnership embodies the innovation needed to meet contemporary global energy challenges. Advances in sustainable energy have the potential to help Canada and the world respond to climate change, produce reliable, carbon-free electricity, create jobs, and move faster toward net zero emissions by 2050.
The agreement will support research and development, and training and education on multi-purpose use of hybrid renewable energy systems with advanced, small modular, and micro nuclear reactors. The multi-purpose applications of such sustainable energy systems include the production of electricity, hydrogen production, desalination and district heating as part of the overall contribution to climate-change mitigation.
Ontario Tech will also support IAEA activities to attract more women to nuclear science and engineering, such as through the selection of an outstanding graduate student to apply for the IAEA Marie Sklodowska Curie Fellowship Program.
Quotes
"This IAEA designation validates Ontario Tech University's expertise and leadership in numerous clean energy fields. To be recognized by the IAEA as a collaborating centre firmly establishes our research as impactful on the international stage. The Collaborative Centre designation is a timely initiative given the momentum the university has in all aspects of energy."
-Dr. Steven Murphy, President and Vice-Chancellor, Ontario Tech University
"These topics are very timely as we face the great challenge of producing enough energy to power global development, while ensuring we do no harm to our planet. Nuclear power, as a clean, reliable and sustainable source of energy can help us meet that challenge. And innovation, of course, is key to that success."
-Mikhail Chudakov, IAEA Deputy Director General and Head of the Department of Nuclear Energy
"This agreement embodies the spirit of innovation and collaboration that we are going to need in the years ahead to build back better."
-Heidi Hulan, Ambassador of Canada to Austria, and Chair, IAEA Board of Governors
About UN IAEA Collaborating Centres
To promote the practical use of nuclear technologies, the IAEA collaborates with designated institutions around the world. Through the Collaborating Centres network, these organizations can assist the IAEA by undertaking original research and development and training relating to nuclear science, technologies and their safe and secure applications. With the added designation of Ontario Tech University, there are now 49 active Collaborating Centres worldwide.
Related links and backgrounders for further learning
(story updated in October 2021)
Media contact
Bryan Oliver
Communications and Marketing
Ontario Tech University
289.928.3653 (mobile)
bryan.oliver@ontariotechu.ca
Gallery