New WAVE: Ontario Tech University plugged in to autonomous vehicle (AV) innovation
As a self-driving shuttle hits the road locally, ACE explains some AV facts and insights
October 25, 2021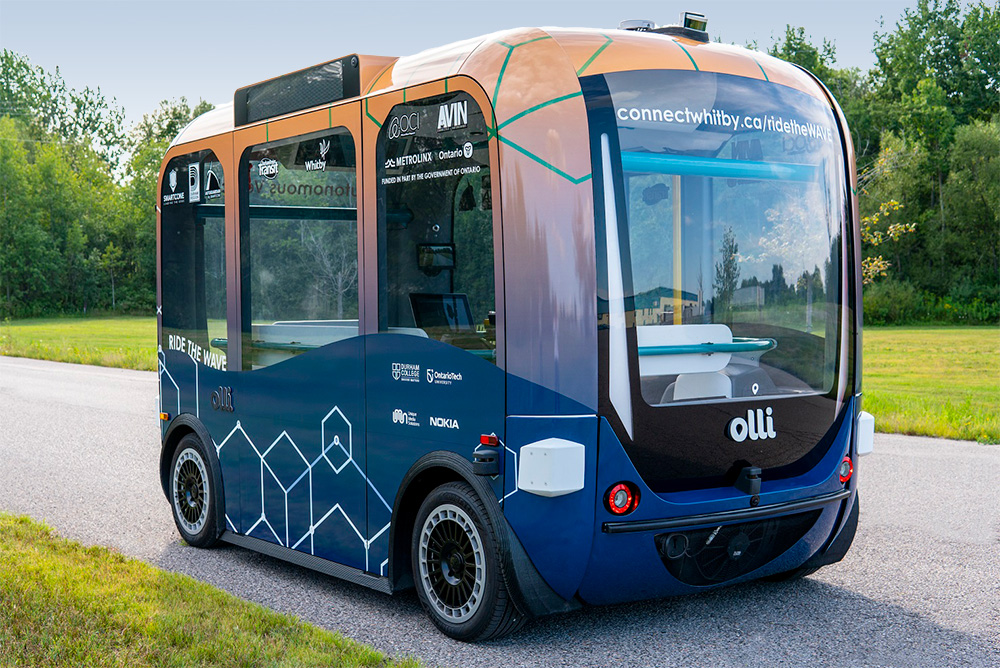 On August 24, local transportation took a giant step into the future when a team of future-focused organizations collaborated in the Town of Whitby to launch on-road testing for a self-driving small bus, North America's first autonomous shuttle with integrated smart safety infrastructure.
The inaugural phase of the Whitby Autonomous Vehicle Electric (WAVE) shuttle project involves nearly a dozen partners from across the transportation, high-tech innovation, government and academic communities.
Ontario Tech University is proud to play a supportive role in the WAVE Project for autonomous vehicle (AV) maintenance through the university's Automotive Centre of Excellence (ACE). ACE is a regional technology development site, part of the Autonomous Vehicle Innovation Network (AVIN).
In addition to ACE's Climatic Wind Tunnel, a real-world AV testing environment that mimics actual conditions anywhere in the world, Ontario Tech offers a number of academic programs that lead to careers in smart mobility, autonomous and electric vehicles including Canada's only accredited automotive engineering program.
Autonomous vehicle technology: Facts and myths
While the first-ever experiments on self-driving vehicles took place nearly a century ago and 'real' AVs came around in the 1980s, research and innovation is quickly driving development forward. Understandably, with these advancements come all kinds of questions.
Ontario Tech University's Dr. Justin Gammage, Industry Liaison Specialist in the Office of the Vice-President, Research and Innovation answers some of today's top questions when it comes to autonomous vehicles.
---
Media contact
Bryan Oliver
Communications and Marketing
Ontario Tech University
289.928.3653
bryan.oliver@ontariotechu.ca