Double Ontario Tech grad now a Canada Research Chair at Acadia University
Dr. Emily Bremer recognized as a leading national authority in healthy inclusive communities
January 20, 2022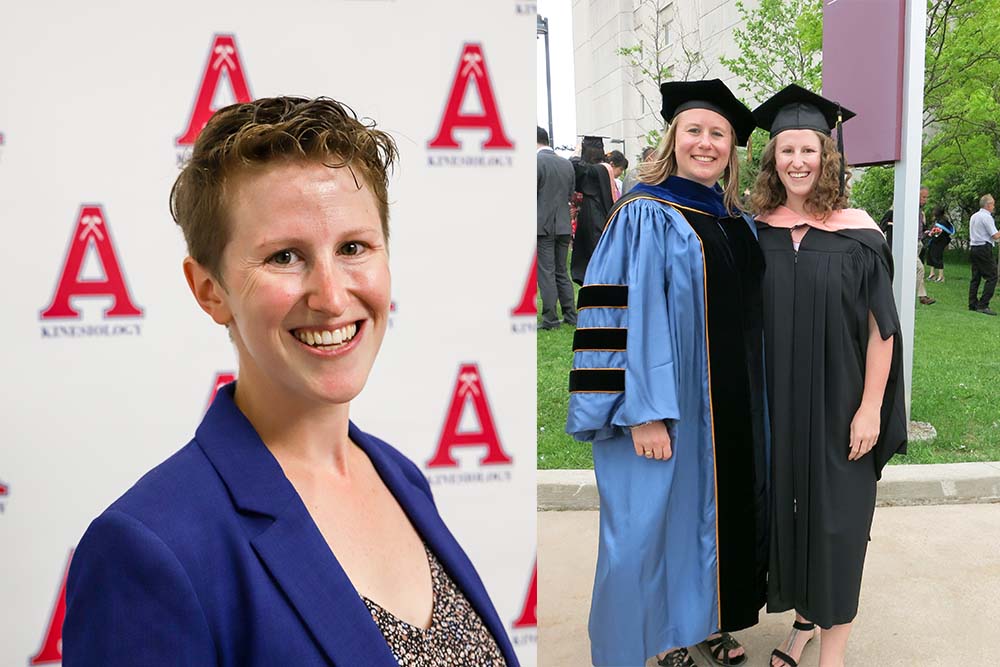 One of Ontario Tech University's earliest students is now a member of a elite group of Canadian researchers. On January 12, Dr. Emily Bremer became one of the newest academics across the country to be appointed a Canada Research Chair (CRC), designated with the portfolio of Healthy Inclusive Communities.
Dr. Bremer graduated from Ontario Tech a decade ago with a Bachelor of Health Sciences degree (with distinction), and in 2014 crossed the university's Convocation stage again with a Master of Health Sciences degree. She would go on to earn a PhD at McMaster University in Hamilton and later become a Post-doctoral Fellow at the University of Toronto. But she's the first to underscore how influential her six years at Ontario Tech were in helping her get to where she is now as a CRC and faculty member at Acadia University in Wolfville, Nova Scotia.
"By far, one of the biggest turning points for me was becoming a research assistant in the summer after my third year of undergraduate studies," says Dr. Bremer. "I had just taken a course from Dr. Meghann Lloyd in the Faculty of Health Sciences. I would go on to complete my undergrad research practicum in Dr. Lloyd's Motor Behaviour and Physical Activity Laboratory."
After growing up in Barrie, Ontario, Dr. Bremer came to Ontario Tech in 2008 as a recruit for the Ridgebacks varsity women's hockey team. She also had grandparents living in Durham Region.
"I originally wasn't sure about attending a newer university (Ontario Tech was only five years old at the time), and it seemed too close to home since I knew the area so well from visiting family," she says. "But when I came on my recruiting tour, I loved all the new buildings and services, and it sounded like the Health Sciences program was going to be a great fit. With small class sizes I could easily get to know people. And then I was obviously excited about playing varsity hockey."
Dr. Bremer played hockey for one season and opted to focus more on academics, including taking one semester abroad in third year. That program, called Semester at Sea, allows students to travel the world by ship while taking their courses. Semester at Sea would not have been possible while playing hockey.
"Hockey helped bring me to Ontario Tech, and then my program and the people allowed my academic opportunities to blossom. Learning from and working with Dr. Lloyd opened my eyes to a world of possibilities in terms of research and adapted physical activity."  
"Emily's academic potential was obvious to me immediately," says Dr. Meghann Lloyd, Associate Professor, Faculty of Health Sciences. "I recruited her to participate in some of my early studies at Ontario Tech. Very quickly Emily was taking a leadership role in the studies – collecting data, analyzing the results, and writing the publications. After her master's degree, I knew she was destined for a successful career in academia, but being named a CRC at my alma mater, Acadia University, is beyond special. I could not be more proud."
She would be supervised by Dr. Lloyd during her master's degree, a stretch which saw the future Dr. Bremer receive a graduate scholarship from the Canadian Institutes of Health Research, and also win Ontario Tech's Three Minute Thesis competition for grad students. As a PhD student in Kinesiology at McMaster, she was recognized with a prestigious Vanier Canada Graduate Scholarship.
And now, as a newly minted Canada Research Chair in Healthy Inclusive Communities, Dr. Bremer is looking forward to launching her program of research while training the next generation of students.
"My undergraduate research experience at Ontario Tech played a huge role in my training and setting me on a path of academic success. I am excited to now be in a position, at Acadia, where there is such a strong undergraduate research culture, and I can 'pay it forward' to the next generation."
Gallery