Ontario Tech's connection to first-ever private research mission to the International Space Station
Dr. Carolyn McGregor's health informatics work supporting Ax-1 Canadian mission specialist Mark Pathy
April 8, 2022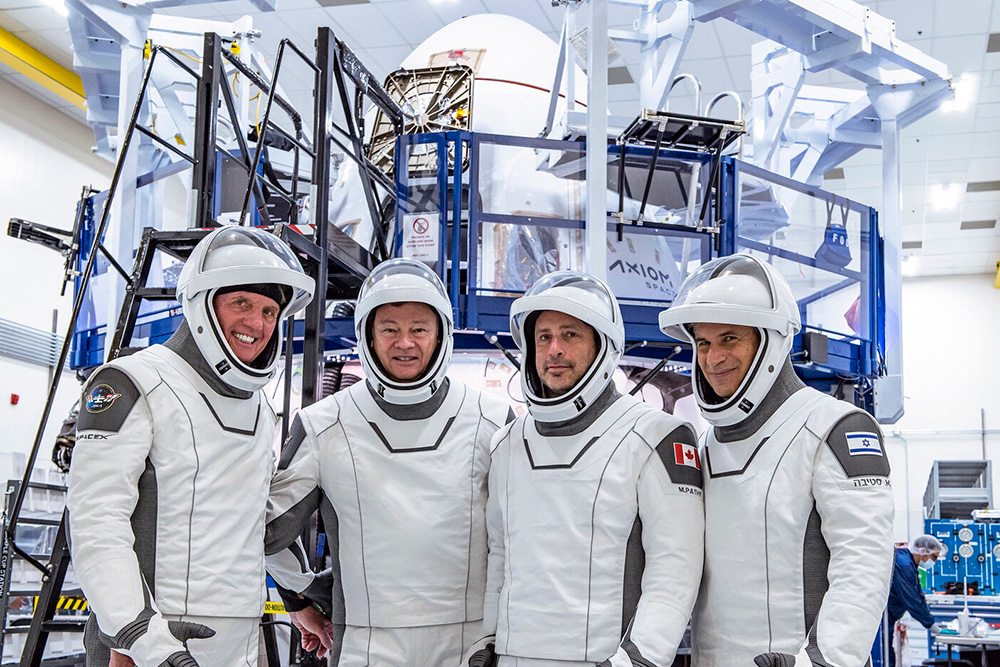 Human spaceflight and human-rated space infrastructure leader Axiom Space will embark on the first fully private mission ever to the International Space Station (ISS) as a crew of four private astronauts, including one Canadian, conduct a wide range of research experiments over 10 days in microgravity.
Axiom Mission 1 (Ax-1) launched April 8 from Florida's Cape Canaveral en route to dock with the ISS on April 9.
Ax-1's Canadian mission specialist
Montreal-based entrepreneur, investor and philanthropist Mark Pathy will join Commander Michael Lopez-Alegria (U.S. and Spain), Pilot Larry Connor (U.S.) and fellow Mission Specialist Eytan Stibbe (Israel) on Ax-1. Pathy is CEO and Chair of the investment and financing company MAVRIK, which he founded to focus on innovation and social impact (full biography).
Pathy has partnered with six Canadian universities including Ontario Tech University for various scientific research projects during the Ax-1 mission, all of which were selected following consultations with the space research community.
Wearable health analytics research at Ontario Tech supporting the Ax-1 mission
Over the past 15 years, Ontario Tech computer science and health analytics expert Dr. Carolyn McGregor, AM has been developing the internationally renowned Artemis Big Data platform whose technology supports the acquisition and storage of patients' data streams and clinical information on a cloud-based system. Dr. McGregor leads Ontario Tech's Health Informatics Research Laboratory and the Artificial Intelligence for Health and Wellness Joint Research Centre.
During Ax-1, the Bio-Monitor (Astroskin) wearable health analytics system will collect data to provide to McGregor's Artemis platform. The Bio-Monitor continuously records astronauts' vital signs and is used before, during and after space missions. Bio-Monitor includes a biometric compression shirt, headband and dedicated tablet application.
Artemis will be acquiring and using the Bio-Monitor data to demonstrate new approaches for autonomous health monitoring in space. Specifically, Artemis will be assessing the impact of spaceflight and mission activities on the cardiovascular system.
Through the Ax-1 mission to the ISS, Axiom Space is laying the groundwork for launching and operating the world's first commercial space station for a full realization of low-Earth orbit's human research possibilities. Axiom Space's longer-term vision includes the creation of a rotating city in space and scaled human presence in orbit.
Quote
"I am truly honoured to be the Principal Investigator of one of the research experiments within the Ax-1 mission. It is a privilege to support Ax-1 Mission Specialist Mark Pathy and his mission research goals under the theme of 'Caring for People and the Planet'. Mr Pathy has committed a significant amount of time before, during and after the mission to support research. The creation of robust autonomous health monitoring capacity, such as what we will demonstrate with Artemis, is vital for future long-range missions to the Moon and Mars. It is an amazing experience to work with Axiom Space, the Canadian Space Agency and NASA on this first private astronaut mission."
-Dr. Carolyn McGregor, AM, Professor, Faculty of Business and Information Technology, Ontario Tech University 
Related links
Media contact
Bryan Oliver
Communications and Marketing
Ontario Tech University
289.928.3653 (mobile)
bryan.oliver@ontariotechu.ca
Gallery