Tops in the province: Ontario Tech master's degree candidate wins provincial Three Minute Thesis title
Emmeline Meens Miller is Ontario Tech's first-ever provincial 3MT champion
May 4, 2022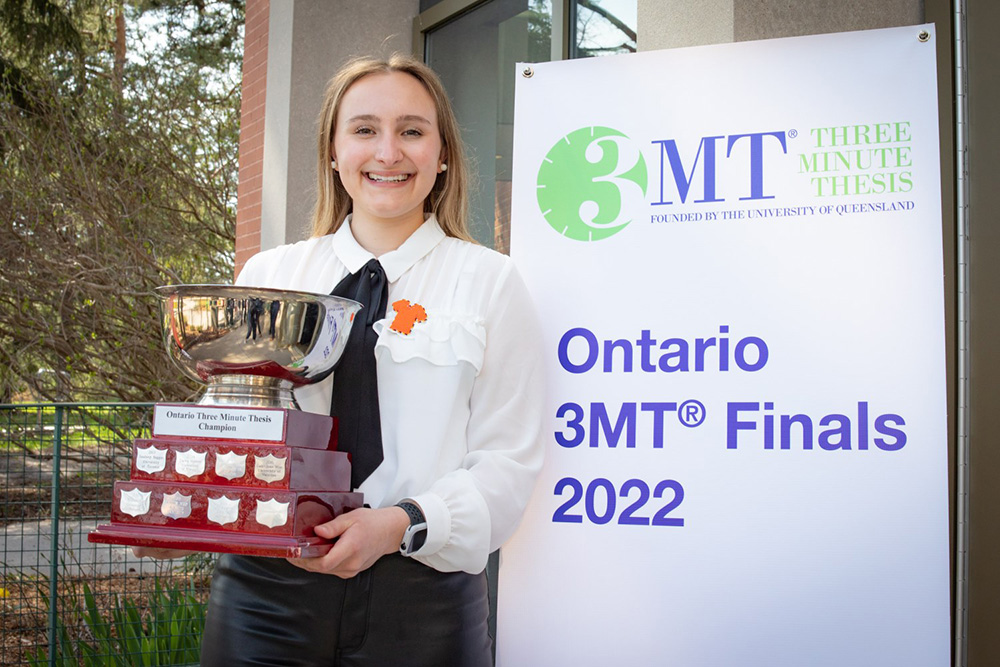 Are you sitting down? Maybe you should be, but in this case maybe you shouldn't be. If you have three minutes spare, does Ontario Tech University student Emmeline Meens Miller ever have a story for you!
The Master of Health Sciences in Kinesiology candidate has captured the 2022 Ontario Three Minute Thesis (3MT) competition. Emmeline, who won the Ontario Tech competition on March 24, came out on top against a challenging field of other Ontario university winners during the provincial 3MT® showdown May 4 at the University of Guelph.
Emmeline will now advance to the National 3MT Showcase hosted by the Canadian Association for Graduate Studies in November in Montreal. That event will feature other Canadian regional champions and finalists. She is the second Ontario Tech graduate student to qualify for the National 3MT Showcase, after Ololade Sanusi in 2017 placed fourth in the Ontario finals.
As she did in the 'home university' competition in March for master's degree and PhD candidates (organized by Ontario Tech's School of Graduate and Postdoctoral Studies), Emmeline won first place in the province for her talk about the physical impact of prolonged sitting.
Emmeline does not have much time to sit still, as she is also a member of the Ontario Tech Ridgebacks Women's Varsity Rowing Team.
As she works on her master's degree, Emmeline is already an Ontario Tech graduate, having previously earned a Bachelor of Health Science (Kinesiology) degree. During her undergrad, she enjoyed the science component of physiology and how the body responds to different conditions. She's passionate about having a proactive approach to medicine. Working with her supervisor Dr. Shilpa Dogra, Associate Professor in the Faculty of Health Sciences, sedentary physiology seemed like the perfect fit: a combination of science and research to support healthier lifestyles. 
The Courtice resident is also a graduate of Father Leo J. Austin C.S.S. in Whitby.
Congratulations Emmeline, and good luck in the national 3MT competition in November!
How 3MT works
Explaining complicated research findings in a simple way is normally not an easy task. It becomes even more challenging to accomplish when you are facing an audience who's not in-the-know, you have only three minutes to tell your story, and you can use only one visual aid: a static image on a screen. The pressure ramps up even more if you are speaking in front a panel of judges and realize you cannot exceed the three-minute time limit under any circumstances.
3MT offers an opportunity for students to share their knowledge and passion for discovery and research with the broader community, while also refining their skills as presenters.
The 3MT® competition was developed initially by the University of Queensland (Australia) in 2008 and first staged at Ontario Tech in 2013. The competition is now held at more than 600 universities and institutions in 65 countries.  
Quotes
"I was very excited and nervous to represent Ontario Tech at the provincial level. The other competitors are experts in their field and presented some really groundbreaking research. I feel very proud that the research I am doing is seen as just as important, and that I was able to present it in a way that made it accessible to the general audience. I'm so excited to have won at this round of the 3MT competition and I hope to continue to represent Ontario Tech with passion and grace at the next level."
-Emmeline Meens Miller, 2022 Ontario 3MT champion, Ontario Tech University 
"Emmeline's novel work allows us to understand how our bodies respond to the excessive amount of sitting we do over the course of the day. I'm not surprised that people were enthralled by her 3MT success; she is studying a topic that affects us all, and she is an enthusiastic speaker. I am excited to see all the amazing things Emmeline will accomplish in the years to come."
-Dr. Shilpa Dogra, Associate Professor, Faculty of Health Sciences (Emmeline's master's degree Faculty Supervisor)
Related link
Gallery