Influential Ontario Tech nuclear science researcher reappointed as Canada Research Chair
Dr. Markus Piro is a leading national expert who researches nuclear fuels and materials
June 2, 2022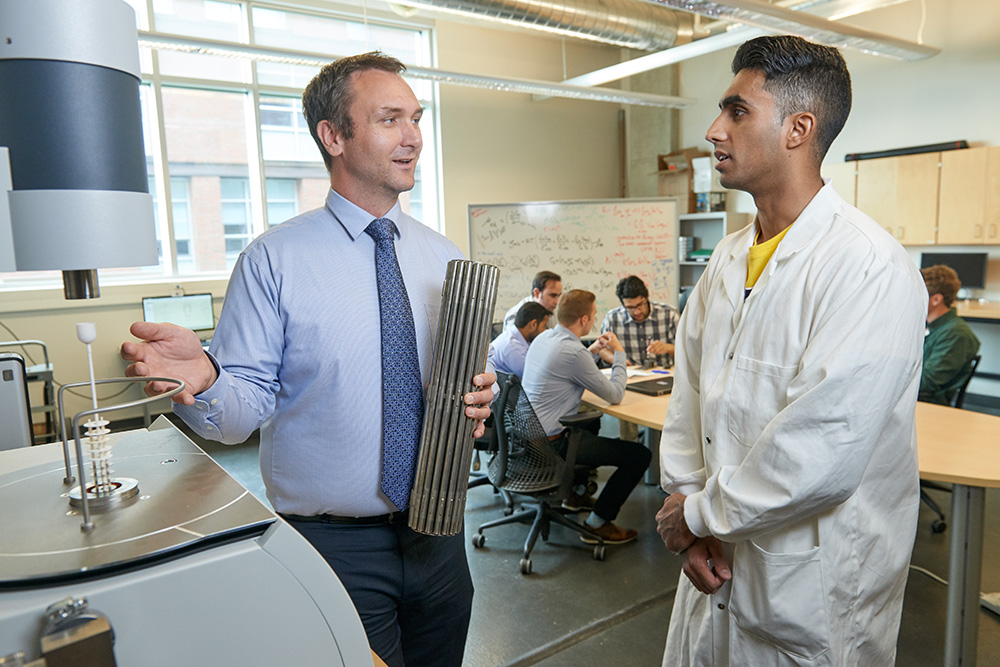 For his outstanding record of research achievement and discovery, the Government of Canada is renewing the Canada Research Chair (CRC) appointment of Ontario Tech University researcher Dr. Markus Piro of the Faculty of Energy Systems and Nuclear Science (FESNS) for a new five-year term, retroactive to January 1, 2022.
Dr. Piro, Associate Professor, FESNS, is Ontario Tech's Tier 2 CRC in Nuclear Fuels and Materials, and one of 11 CRCs at the university recognized by the CRC program as leading national experts in their area of research.
Dr. Piro will use state-of-the-art experimental and computational techniques to better understand nuclear fuel and related material behaviour. His research will lead to improved performance and safety of conventional nuclear technologies and Small Modular Reactors (SMR).
Benefits to Canada
Through advanced modelling and experimental techniques, his research enhances the performance, safety and environmental stewardship of nuclear fuels and related materials. The benefit to Canada is a better understanding of in-reactor nuclear fuel behaviour, long-term storage of spent nuclear fuel and greater support for emerging SMR technologies and deployment.
Nuclear science and technology have many positive effects on the daily lives of Canadians, ranging from reliable, safe and clean electricity generation to the production of medical isotopes for the diagnosis and treatment of cancer patients. Dr. Piro is sought for his expertise in nuclear fuel engineering by stakeholders in industry and government.
Advent of SMRs
During his first CRC term, Dr. Piro and his team of students and post-doctoral fellows established collaborations with partners in industry, government, and academia, including Ontario Power Generation, Massachusetts Institute of Technology, and the European Commission, to name a few.
 Significant research accomplishments include:
Experiments to support accident-tolerant fuel technologies for industry.
Development of experimental procedures to measure critical material properties for SMRs.
Software development to enhance predictive capabilities of nuclear safety codes for industry.
2022-2027 research objectives
Over the next five years, Dr. Piro and his research team will focus on SMR technologies in response to the evolving energy landscape in Canada. Having direct engagement with industry and government partners will continue to be a high priority, which is important to ensure that research funded by the CRC program benefits Canadian stakeholders while also enhancing recruitment opportunities for students.
Selected links related to Dr. Piro's research
Related links
Quotes
"The renewal of this Canada Research Chair for Dr. Markus Piro is a reflection of his valuable international contributions to nuclear energy research, and its immense potential for shaping the adoption of small modular reactor technology in Canada."
-Dr. Les Jacobs, Vice-President, Research and Innovation, Ontario Tech University
"Our government recognizes that investing in researchers and scientists results in breakthroughs to advance our society, and benefits all Canadians. The Canada Research Chairs Program provides a unique opportunity for researchers to push boundaries and make cutting-edge discoveries with lasting impacts across the health, environment, natural sciences, social sciences and humanities disciplines."
-The Honourable François-Philippe Champagne, Minister of Innovation, Science and Industry
"The Canada Research Chairs Program is a cornerstone of research excellence in Canada. With each cycle, we see emerging and experienced researchers who represent the breadth and depth of diversity in Canada, and who are committed to advancing their ideas, finding solutions to some of the world's toughest problems, and having a seat at the global table to help shape a better future for generations to come. We congratulate you on your research achievements, and eagerly anticipate your next successes."
-Ted Hewitt, President, Social Sciences and Humanities Research Council
"The Canada Foundation for Innovation is proud to support the Canada Research Chairs Program, a joint effort that contributes to retaining and attracting the most promising and accomplished researchers. State-of-the-art facilities and equipment acquired thanks to CFI contributions are key to bringing extraordinary talent to our institutions, and to enabling them to innovate across all fields."
-Roseann O'Reilly Runte, President and CEO, Canada Foundation for Innovation
About the CRC program
Established in 2000, the Canada Research Chairs program provides prestigious awards to help Canadian universities attract and support outstanding researchers and key members of their research teams in the priority research areas of environmental sciences and technologies, natural resources and energy, health and related life sciences and technologies, and information and communication technologies.
Tier 1 Chairs are outstanding researchers acknowledged by their peers as world leaders in their fields. Valued at $1.4 million, appointments are for seven years and are renewable.
Tier 2 Chairs recognize exceptional emerging researchers, as judged by their peers, with potential to lead in their field. Valued at $500,000, appointments are for five years and renewable once.
Media contact
Bryan Oliver
Communications and Marketing
Ontario Tech University
289.928.3653 (mobile)
bryan.oliver@ontariotechu.ca