Announcing Ontario Tech University's major scholarship recipients for 2022-2023
August 24, 2022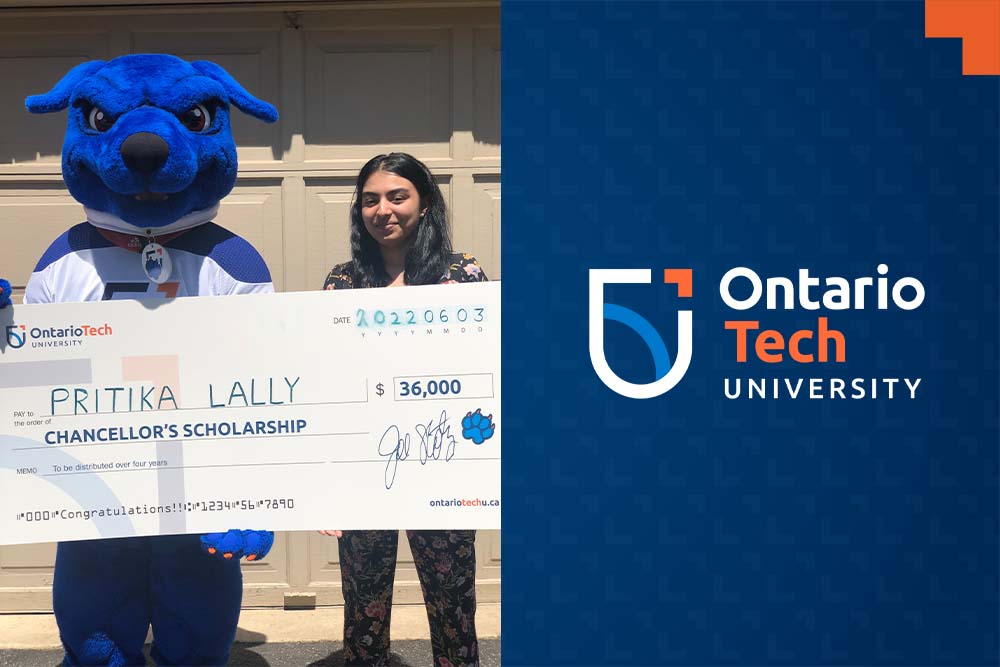 Each year, seven outstanding incoming students receive Ontario Tech University's most prestigious entrance scholarships. The university's scholarship program recognizes secondary school students for exceptional achievements in academics, leadership and community involvement throughout their high school career.
Chancellor's Scholarship: One valued at $36,000 ($9,000 annually for four years)
President's Scholarship: Two valued at $30,000 each ($7,500 annually for four years)
Founder's Scholarship: Two valued at $24,000 each ($6,000 annually for four years)
FIRST Robotics Canada Scholarship: One valued at $12,000 ($3,000 annually for four years)
Global Leadership Award: One valued at $72,000 ($18,000 annually for four years)
These scholarships enable students' continued success and guide them to be exceptional in their futures. All award recipients work hard and these prestigious awards recognize their success.   
This year's Chancellor's Scholarship recipient is Pritika Lally (Biological Science) from Whitby. Pritika is drawn towards Ontario Tech University because of the tight-knit community, and the abundance of research opportunities the university provides. Throughout high school, Pritika loved to challenge herself by being persistent with her studies and assisting in the community. The scholarship will grant Pritika more freedom with what she chooses to do outside of her studies, such as connecting with the university community and increasing her knowledge of different languages.
This year's President's Scholarship recipients are Zainab Khalid (Biological Science) and Habiba Shafey (Kinesiology), both from Oshawa.
Zainab selected Ontario Tech as her top university due to the many extracurricular activities encouraging students to get involved in the community. Receiving this award will permit her to focus more attention on her studies and personal activities rather than finding ways to fund her education. Zainab has an inborn curiosity and wishes to be a lifelong learner.
Habiba decided to pursue her degree at Ontario Tech due to the enticing Kinesiology program, and the enhanced learning and engagement students enjoy because of small class sizes. Receiving this scholarship means the world to Habiba. "This award demonstrates to myself and others that Muslim women are capable of achieving great things, and this will encourage me to continue to work hard and accomplish my goals in university," she says.
One of this year's Founder's Scholarship recipients is Khushi Dhalla (Biological Science) from Richmond Hill. Khushi fell in love with the Biological Science program as she discovered the many pathways and learning opportunities she will have the chance to experience. She enjoys assisting less-fortunate individuals and taking on leadership roles to have a positive impact in her community. Receiving the Founder's Scholarship has given Khushi the confidence to charge into the unknown and make a difference wherever she chooses to go.
Ilhaam Dawood (Health Sciences) from Scarborough also received the Founder's Scholarship this year. Ontario Tech piqued Ilhaam's interest due to the university's warm, compassionate, and kind students and staff. As a Founder's Scholarship recipient, Ilhaam can shift her focus to improving student life for herself and her peers. She intends to share her favourite hobbies (pottery and dancing) with the university community by leading clubs that focus on these interests.
Our FIRST Robotics Canada Scholarship recipient is Keegan Sunderland (Mechatronics Engineering) from Caledon. Keegan considered various universities offering the mechatronics engineering program. When he discovered Ontario Tech, he found many features that would enhance his university experience. The FIRST Robotics Scholarships is an exceptional achievement for Keegan. "FIRST Robotics has been such a huge part of my life throughout all of high school," he says. "I have put hundreds of hours into my high school team." Receiving this scholarship means Keegan will be able to focus more on improving his skills, as his time will be spent studying rather than working to pay university expenses.
Our international Global Leadership Award recipient is Rhama Khan (Forensic Psychology) from Khobar, Saudi Arabia. Rhama is excited to come to Ontario Tech and wants to get involved in activities that provide students with something to look forward to on a daily basis. She intends to help her peers living in residence who may be homesick or are unsure about whether their program is a fit for them. Rhama has experienced many challenges in her life; she desires to use the lessons she has learned to guide others into finding their true passions.
For information on applicant criteria for each award, visit the Ontario Tech scholarships web page .
Award

Name

Faculty

Program

Hometown

High School

Chancellor's Scholarship

Pritika Lally

Faculty of Science

Biological Science -        Complementary Studies

Whitby

Donald A. Wilson Secondary School

President's Scholarship

Zainab Khalid

Faculty of Science

Biological Science – Life Sciences

Oshawa

Maxwell Heights Secondary School

President's Scholarship

Habiba Shafey

Faculty of Health Sciences

Kinesiology

Oshawa

Maxwell Heights Secondary School

Founder's Scholarship

Khushi Dhalla

Faculty of Health Sciences

Biological Science – Life Sciences

 

Richmond Hill

Richmond Hill High School

Founder's Scholarship

Ilhaam Dawood

Faculty of Health Sciences

Health Sciences – Public Health

Scarborough

Cedarbrae Collegiate Institute

FIRST Robotics Scholarship

Keegan Sunderland

Faculty of Engineering and Applied Science

Mechatronics Engineering and Co-op

 

Caledon

Humberview Secondary School

Global Leadership Award

Rahma Khan

Faculty of Social Sciences and Humanities

Forensic Psychology

Khobar

 

Al Hussan International School
Gallery