Ontario Tech celebrates the 2022 SGPS Graduate Excellence Award winners
November 16, 2022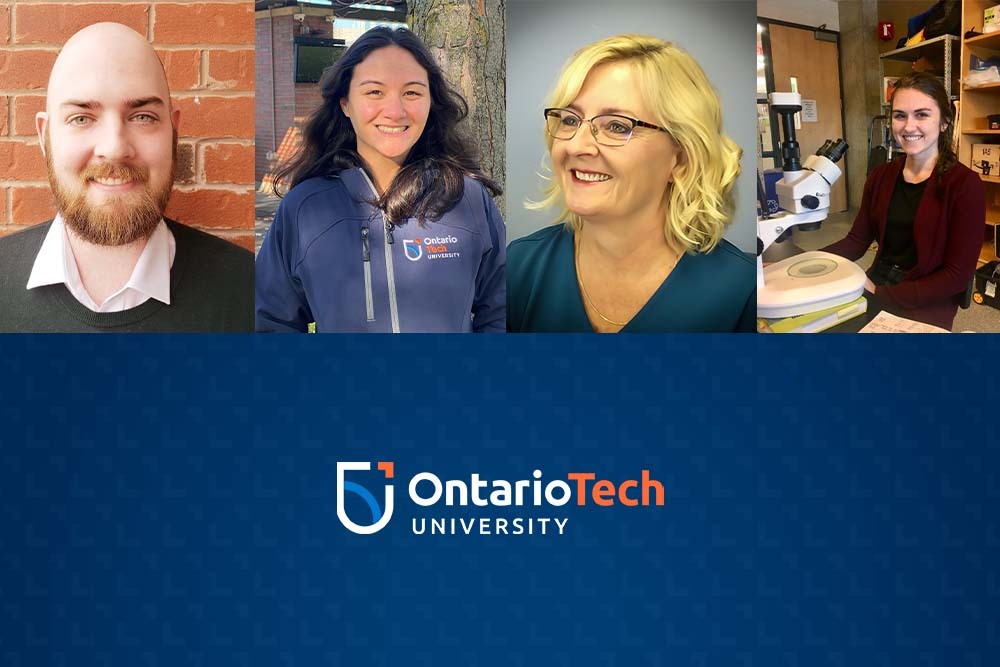 The School of Graduate and Postdoctoral Studies (SGPS) at Ontario Tech University annually distributes Graduate Excellence Awards to recognize and celebrate the inspiring individuals who encourage and support our graduate students on their way to becoming successful scholars.
Over the past year, with the added challenges brought on by the pandemic, our graduate community proved themselves to be exemplary leaders and mentors. They demonstrated that a strong university support system is essential for the learning, growth and success of graduate students and postdoctoral fellows. It's a huge reason why Ontario Tech prioritizes the recognition and celebration of service, leadership and achievement in postdoctoral and graduate education. 
Join us in congratulating all staff, students, postdoctoral fellows and faculty members recognized with nominations as well as our 2022 Graduate Excellence Award winners.  
2022 Graduate Excellence Award winners (with nomination citations)
Excellence in Service Award: Recognizes staff members who have displayed professional excellence in graduate education.
Samantha Watson, School of Graduate and Postdoctoral Studies
"Sam has used her vigorous learning skills, growing knowledge of Graduate Studies' procedures, attention to detail and initiative to support multiple applicants, students, staff colleagues and faculty members through several processes, even during a time of much change and transition of roles in the Grad Program Directors, Grad Program Assistants and Grad Studies team(s). Through it all, she has made individuals feel heard and responded quickly to their needs, diminishing the stress of wondering whether something has been done."
Postdoctoral Fellow Excellence Award: Recognizes postdoctoral fellows who have displayed excellence in research, professional development, and/or service during their appointment.
Dr. Joshua Wyman, Faculty of Social Sciences and Humanities
"As a postdoc at Ontario Tech, Josh's teaching and mentorship have been outstanding. As part of our course requirements at the graduate level we present our research at various stages. Josh attended these meetings and took on a very active role. He asked great questions designed to encourage us to think critically about our work and gave valuable feedback regarding our research ideas. Josh has been a thoughtful and empathic mentor, and it is clear to us that he has worked hard to create a supportive and uplifting research environment. We appreciate his kindness, ethic of care, and support of our work."
Graduate Student Leadership Award: Recognizes graduate students who have displayed excellence in leadership. 
Erin Smith, Faculty of Science
"Erin pioneered new outreach opportunities through the Let's Talk Science National Program. In November 2020, Ontario Tech hosted its first Science Symposium engaging over 40 classes and individuals from across Canada to discuss climate change. Erin helped to coordinate speakers from academic and industry backgrounds who presented at the symposium. In addition, she facilitated a virtual workshop that challenged students to build a green city. Overall, Erin's leadership and true dedication to science and community outreach has allowed Let's Talk Science to prosper over the past few years."
Award of Excellence in Graduate Supervision: Recognizes faculty members who have displayed excellence in mentorship and supervision of graduate students.
Dr. Janette Hughes
, Faculty of Education       
"One of the amazing things about Dr. Hughes is her faith and confidence in those who see her as a mentor and work with her. She views each person as a valuable member of her team. Going beyond the role of a mentor and supervisor, Dr. Hughes helps us build connections in the academic world, provides opportunities to work on different projects, meet and connect with other professionals, and attend academic conferences. [She] provided us with opportunities to build our professional skills in academic presentations, which contributes to our long-term career development in academia. Never in our dreams would we have thought any of this was possible without the mentorship, guidance, and faith that Dr. Hughes had shown us."
Visit the SGPS website to view the entire list of 2022 nominees.
Quote
"We are delighted to recognize the achievements of all those who contribute to the quality of graduate education and experience at Ontario Tech University, and to celebrate the nominees and winners, who are an integral part of our culture of excellence. All nominees and winners have made lasting impacts on the graduate and postdoctoral experience at Ontario Tech, and we are very grateful for their contributions."
-Dr. Bernadette Murphy, Interim Dean, School of Graduate and Postdoctoral Studies
Did you know?
At Ontario Tech, SGPS offers 35 different programs across six faculties, and is home to nearly 1,000 students seeking master's degrees, doctorates and more. Graduate students and postdoctoral fellows (scholars who hold a PhD and engage in a further period of mentored research) work closely with Ontario Tech's incredible depth of faculty experts who represent the university's expansive research and discovery culture.
Graduate programs started at Ontario Tech in the 2005-2006 academic year.
Grad students now comprise more than nine per cent of Ontario Tech's overall enrolment. 
SGPS programs attract international students from around the globe.
Ontario Tech's current grad student enrolment is now higher than the number of (undergraduate) students the university had in its very first academic year (2003-2004).