Ontario Tech's first-ever CIHR Doctoral Research Award highlights list of new federal graduate studies funding
Fifteen students awarded a total of $482,500 by Canada's federal research funding tri-agencies
November 24, 2022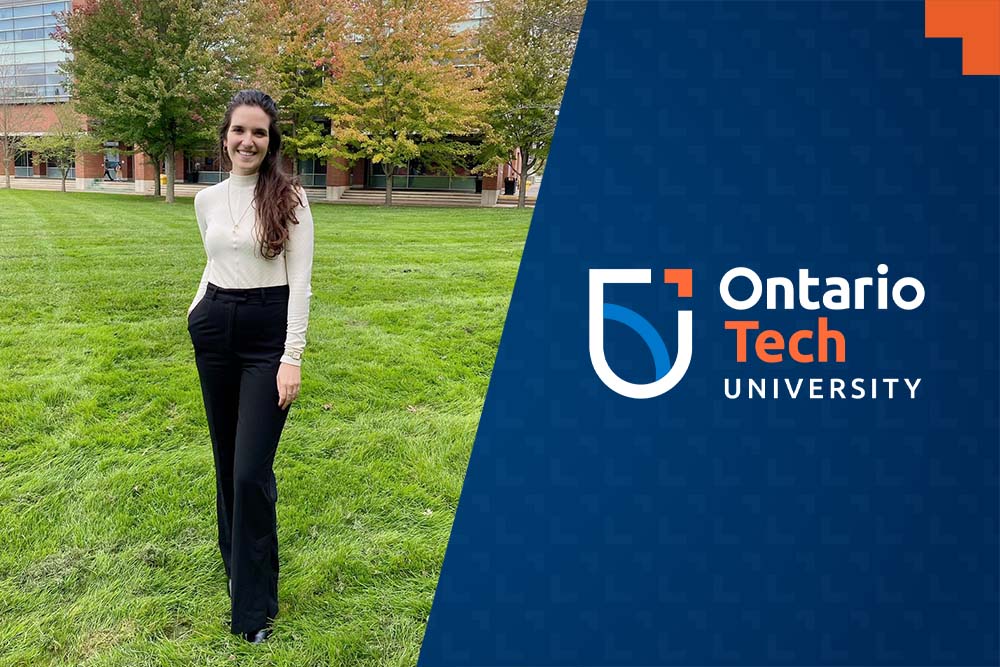 One of the many strengths of Ontario Tech University is the growth in the number of outstanding students enrolled in graduate studies programs. Launched in the university's third academic year (2005-2006), the School of Graduate and Postdoctoral Studies (SGPS) is now home to more than 1,000 students (more than nine per cent of the university's overall enrolment). SGPS administers nearly three dozen programs leading to master's degrees, PhDs and graduate diplomas, and also oversees postdoctoral fellows who work with Ontario Tech's distinguished research faculty.
On November 16, the Government of Canada's tri-agencies for research funding (Canadian Institutes of Health Research (CIHR); Social Sciences and Humanities Research Council (SSHRC); and Natural Sciences and Engineering Research Council (NSERC)) announced funding for hundreds of high-achieving graduate students across Canada, including 15 at Ontario Tech.
Among the awards is Ontario Tech's first-ever CIHR Doctoral Research Scholarship, to Jackie Brown, a PhD student in the Faculty of Health Sciences.
"Receiving this scholarship has had a very profound impact on my research program by allowing me to focus my time solely on my research project and pursue professional development activities," says Brown. "I was motivated to return to Ontario Tech for my PhD because I had a truly wonderful and enriching experience during my Master of Health Sciences program here, where I continued my research on the Foodbot Factory app, to help children learn about food and nutrition. I also chose to continue studying at Ontario Tech under the guidance of my supervisor, Dr. JoAnne Arcand, who has and continues to provide me with exciting research opportunities and support on my research journey."
Full list of recipients
NSERC Postdoctoral Fellowship 
Holly Fruehwald, Faculty of Science (FSci), Materials Science and Technology (Dr. Fruehwald also earned a Bachelor of Science (2016) at Ontario Tech, in addition to her PhD (2022). She also served as a Sessional Lecturer, Teaching Assistant and Research Assistant at Ontario Tech. She is now working on her NSERC Postdoctoral Fellowship at the University of Waterloo).
CIHR Doctoral Research Scholarship - Doctoral Fall 2021 competition
Jackie Brown, PhD candidate (Health Sciences), Faculty of Health Sciences (FHSc) (faculty supervisor: Dr. JoAnne Arcand)

Efficacy of a digital school-based nutrition education intervention to improve healthy eating knowledge, attitudes and behaviours
SSHRC Doctoral Fellowships - Doctoral Fall 2021 competition
Krystina Clarke, PhD candidate (Health Sciences), FHSc (faculty supervisor: Dr. Adam Dubrowski)

Designing and developing crowdsourcing application rooted in theoretical findings to produce simulators for remote health professions education learners

Kristina Shatokina, PhD candidate (Forensic Psychology), Faculty of Social Science and Humanities (FSSH) (faculty supervisor: Dr. Leigh Harkins)

Multi-perpetrator sexual offenses characteristics of leaders and followers
SSHRC Canada Graduate Scholarship – Master's Fall 2021 competition
Sarah Kirkpatrick, Master of Science (Forensic Psychology), FSSH (faculty supervisor: Dr. Karla Emeno)

Perceptions of wrongfully convicted offenders

Marvin Mnaymneh, Master of Arts (Education), Faculty of Education (FEd), (faculty supervisor: Dr. Roland van Oostveen)

E-learning in nursing education: Factors affecting its use

Jennifer Muchmaker, Master of Arts (Education), FEd (faculty supervisor: Dr. Robyn Ruttenberg-Rozen)

Access, achievement, identity and power: An analysis of teacher identity formation

Alia Stevenson, Master of Science (Forensic Psychology), FSSH (faculty supervisors: Dr. Carla Cesaroni/Dr. Leigh Harkins)

Psychopathy and deception detection on self-report measures in a sample of justice-involved men

Sarah Wildish, Master of Health Sciences, FHSc (faculty supervisor: Dr. Meghann Lloyd)

Enabling factors of recreational trail usage for people with physical disabilities who use wheelchairs
NSERC Canada Graduate Scholarship – Master's Fall 2021 competition
Graeme Francolini, Master of Science (Materials Science), FSci
Erin Giroux, Master of Science (Applied Bioscience), FSci
Eden Gough, Master of Applied Science (Nuclear Engineering), Faculty of Engineering and Applied Science
Julia Micallef, Master of Health Sciences, FHSc
Jennifer Nichols, Master of Science (Applied Bioscience), FSci
CIHR Canada Graduate Scholarship – Master's Fall 2021 competition
Alanna Veitch, Master of Health Sciences, FHSc
Quotes
"Congratulations to all of our federal tri-agency funding recipients. Their success is indicative of the growing influence of Ontario Tech's School of Graduate and Postdoctoral Studies. Students from across Ontario, Canada and around the world are discovering the incredible possibilities available to them within Ontario Tech's grad student programs and research community."
-Dr. Bernadette Murphy, Interim Dean, School of Graduate and Postdoctoral Studies, Ontario Tech University
"The strength of the contributions of our graduate students at Ontario Tech is a huge component of Ontario Tech University's research imprint. These contributions reflect the outstanding supervision and support they receive from our many top-notch faculty researchers. We are proud of their achievements and of the impact they are making around the world."
-Dr. Les Jacobs, Vice-President, Research and Innovation, Ontario Tech University