New international option for Ontario Tech University students interested in medical and veterinary studies
Partnership with St. George's University in Grenada adds another flexible pathway in medicine and health
December 22, 2022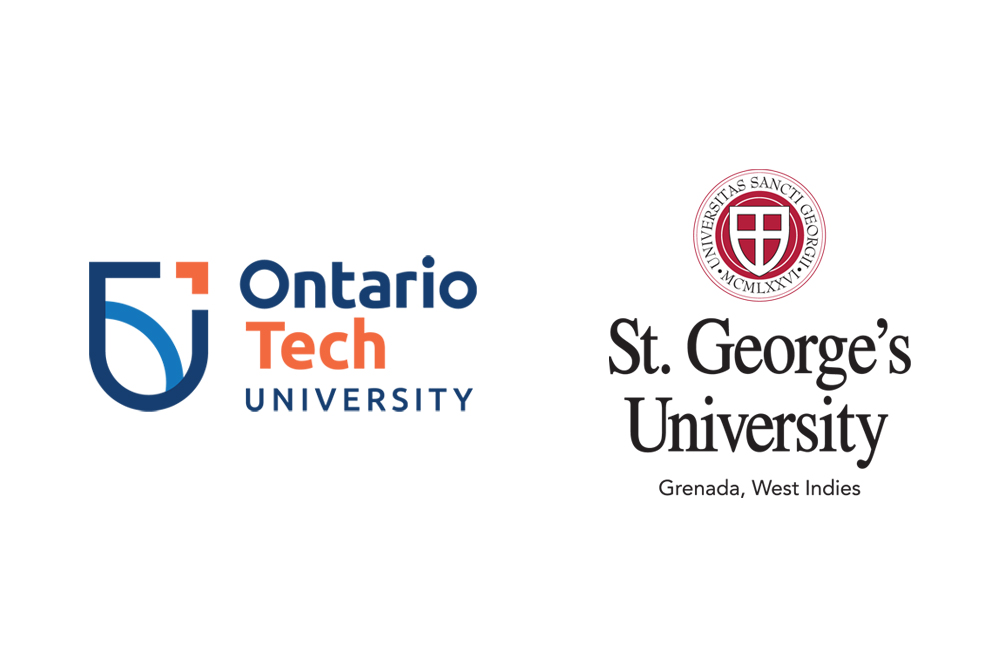 Entry into Canadian medical and veterinary schools is fiercely competitive, with only a limited number of spots available for the thousands of qualified students who apply each year.
A new international partnership with St. George's University (SGU) in Grenada will provide an additional pathway for Ontario Tech University students to pursue their dream of becoming a medical doctor or veterinarian.
This agreement highlights Ontario Tech's commitment to investing in science, technology, engineering and mathematics (STEM)-focused programs, and equipping its students and graduates to make a positive impact in their communities, and beyond.
The recently signed Memorandum of Understanding between the two institutions establishes a '4 + 4' program: qualified Ontario Tech students who have completed a four-year undergraduate degree in a pre-approved pre-medicine or pre-veterinary program (within the faculties of Health Sciences or Science) gain direct entry into the first year of SGU's four-year School of Medicine or School of Veterinary Medicine.
Doctor of Medicine students will complete:
First two years of medical study in Grenada; or
First year at Northumbria University, U.K., followed by a year of study in Grenada.
They will then complete the final two years of the medical program in clinical rotations at SGU's affiliated hospitals in the U.S. and/or the U.K.
Doctor of Veterinary Medicine students will complete:
Three years of study in Grenada.
Final clinical year at SGU's affiliated universities in Australia, Canada, Ireland, Netherlands, U.K. or U.S.
Quotes
"Ontario Tech University's versatile Health Sciences and Science programs equip students with the foundational knowledge and essential skills they need to become highly competitive candidates for medical or veterinary professional programs. Our partnership with St. George's University will give even more hard-working, motivated and highly qualified Ontario Tech students a chance to continue their journey and succeed in the fields of human or animal health care."
-Dr. Joe Stokes, University Registrar and Assistant Vice-President, International, Ontario Tech University
"We're delighted to partner with Ontario Tech University to educate the next generation of doctors and veterinarians. Both of these professions are facing shortages that pose a concerning threat to public health. Initiatives like this one improve opportunities for Canadian students to enter the medical professions, and we're honored to work together with Ontario Tech to help more students pursue that dream."

-
Dr. G. Richard Olds
, President Emeritus, St. George's University