Ontario Tech University announces historic first donor-named faculty in recognition of transformational philanthropy
University's 20th-anniversary celebrations begin with the naming of the Mitch and Leslie Frazer Faculty of Education
September 15, 2023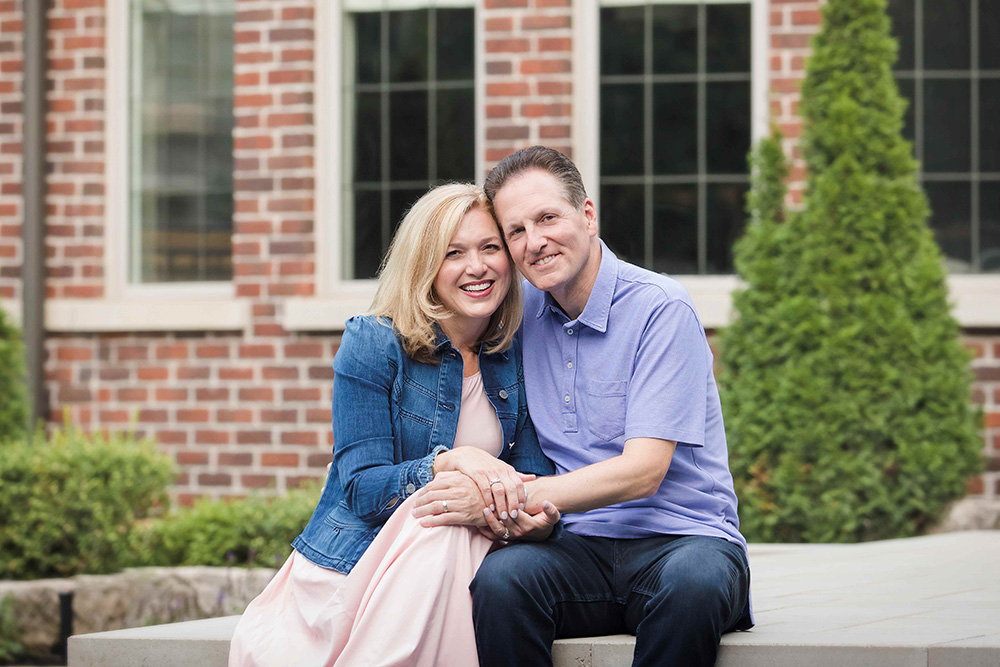 OSHAWA, ONTARIO – As Ontario Tech University marks its 20th anniversary, one of the university's original faculties has been named in recognition of the philanthropic contributions of Mitch and Leslie Frazer and their passionate support of Ontario Tech, and technological and social innovation in education.
Through a landmark gift agreement of $3 million from the Frazer family, the Faculty of Education has been renamed the Mitch and Leslie Frazer Faculty of Education. As one of only two donor-named faculties of education at Ontario universities, and the third in Canada, the Mitch and Leslie Frazer Faculty of Education becomes the first donor-named faculty at Ontario Tech.
The Frazer family's generosity will enable Ontario Tech to elevate the learning community through the creation of the university's new Centre for Digital Innovation in Education. Through active collaboration with community partners, the centre will carry out research and outreach activities to address challenges in teaching and learning. These initiatives will help develop and implement responsive strategies to enhance equitable education, digital wellness, global competencies and future literacies, diversity of educators, and innovation in education.
The Centre for Digital Innovation in Education is a natural extension of the legacy of world-class teaching and research throughout the Mitch and Leslie Frazer Faculty of Education's formative era. The centre will play a vital role in Ontario Tech's ongoing commitment to 'tech with a conscience': improving lives and the planet by incorporating technology-enhanced learning strategies, and promoting the ethical development and use of technology for good through intensive research and inquiry.
The Frazers are devoted advocates for education who care deeply about students. Mitch Frazer plays an influential role in Ontario Tech's campus community as both the university's fourth Chancellor and valued friend, helping the university advance its priorities and support student success. Mitch Frazer continues to demonstrate his dedication to students and education through his ongoing philanthropic endeavours, including hosting the annual Chancellor's Challenge 5 km Run/Walk fundraising event at Ontario Tech set for Saturday, September 23. 
The Mitch and Leslie Frazer Faculty of Education is a vibrant community of educators, researchers, professionals and students supporting evidenced-based, technology-enhanced research and lifelong learning. The faculty has developed a caring environment, highly attuned to the principles of equity, diversity and inclusion.
About the Mitch and Leslie Frazer Faculty of Education
Marking 20 years since Ontario Tech first opened its doors to students; the faculty welcomed its first intake alongside the rest of the university in September 2003. In May 2004, the faculty became the first to confer degrees. The first cohort of four-year program students graduated in 2007 during the university's first all-faculty Convocation.

High-tech undergraduate programs, including the Bachelor of Education and Bachelor of Arts in Educational Studies and Digital Technologies degrees, as well as a diploma in Designing Adult Learning for the Digital Age.

Highly innovative, flexible, online 'college-to-university pathway' programs.

The School of Graduate and Postdoctoral Studies offers an innovative and flexible, fully online Master of Education, Master of Arts, Graduate Diploma in Education and Digital Technologies and a Doctor of Education.

The faculty's move to Charles Hall in 2022 helped consolidate the university's strong imprint in downtown Oshawa.
Janette Hughes became a Canada Research Chair (in Technology and Pedagogy) in 2016.
Canadian leaders in online learning in undergraduate and graduate programs.
Quotes                                                                                         
"As lifelong learners and dedicated advocates for education, Leslie and I are so proud to have our name aligned with this incredible faculty. We are also extremely gratified knowing our support will help strengthen the Mitch and Leslie Frazer Faculty of Education's leadership role in developing digitally innovative and inclusive programs that will help transform the future of education."
-Mitch Frazer, Chancellor, Ontario Tech University
"The Frazers' passion for technological and social innovation in teaching and learning naturally aligns with the priorities of our faculty and the Centre for Digital Innovation in Education. I am extremely grateful to the Frazers for their generosity and strong commitment to the future of education and our university. The Mitch and Leslie Frazer Faculty of Education will continue its journey to redefine education while inspiring students and graduates to make a positive and meaningful impact in a tech-focused world."
-Dr. Robin Kay, Dean, Mitch and Leslie Frazer Faculty of Education, Ontario Tech University
"Mitch and Leslie Frazer's philanthropic leadership and historic agreement will allow Ontario Tech to develop an even deeper presence in national and international digital innovation in education. We are fortunate to have such committed champions of education at our university. As Ontario Tech celebrates 20 years, I am proud to include the Frazer family's exemplary generosity alongside two decades of incredible milestones and accomplishments."
-Dr. Steven Murphy, President and Vice-Chancellor, Ontario Tech University