Tech with a conscience: How excellence in strategic research at Ontario Tech is driving the future
Just 20 years into its history, Ontario Tech's impressive research growth is a key component of regional economic development
September 13, 2023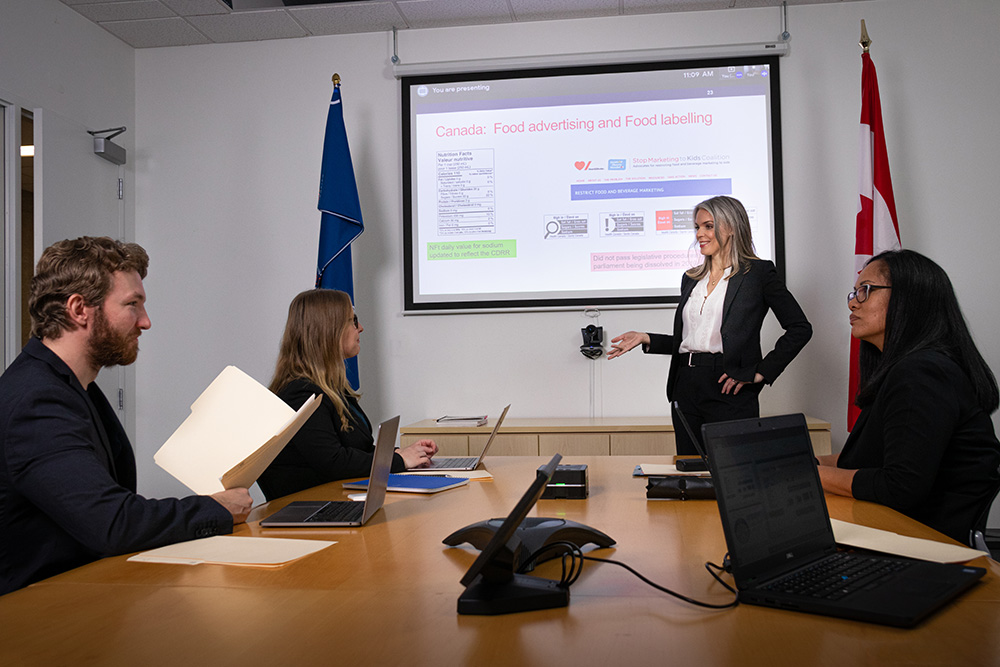 Beyond supporting student success and driving a competitive economy, Ontario universities play a vital role in helping communities and the province find solutions to big challenges.
In the two decades since Ontario Tech University joined Ontario's post-secondary sector (opening its doors in 2003), the Greater Toronto Area (GTA)-based university has rapidly established a strong foundation for impactful research and a track record headlined by hundreds of industry and community partnerships.
While Ontario Tech's research growth was very strong throughout its formative years, the university's research imprint has accelerated substantially since 2018, doubling in size to more than $26 million annually.
New federal funding for 30 Ontario Tech-led research projects
This summer, there's further evidence of Ontario Tech's powerful upward research trajectory after Canada's research funding Tri-agencies announced a further $5.03 million in new grants for 30 new multidisciplinary projects being led by dozens of the university's faculty experts (*see project list below), supported by partners across the broader community, and in some cases, academic colleagues from around the world.
The support for research exploring solutions to pressing societal problems comes from the  Social Sciences and Humanities Research Council (SSHRC),  Canadian Institutes of Health Research (CIHR), and the  Natural Sciences and Engineering Research Council of Canada (NSERC).   
Ontario Tech's capacity for advancing discovery and applying new knowledge runs deep and wide
Beyond Ontario Tech's compelling and distinct array of market-driven undergraduate and postgraduate degree programs, the university has emerged as a vital research hub and cluster of expertise anchoring the eastern flank of the GTA. Ontario Tech's academic roster includes 11 Canada Research Chairs, 11 Ontario Tech Research Excellence Chairs, and its research infrastructure boasts more than 80 specialized labs and super-modern facilities.
Hundreds of top academics from across Canada and around the globe call Ontario Tech home. Collectively they make a huge contribution to new knowledge, all while helping drive new regional economic growth and development. These subject matter experts are equally committed to delivering the best teaching and learning to Ontario Tech's more than 11,000 students. In addition, there are now more than 29,000 Ontario Tech graduates making an impact in workplaces everywhere.
Selected recent Ontario Tech University research highlights
Recent Ontario Tech research projects attracting more than $5.03 million in new federal funding (listed by funding category)
Ontario Tech faculty codes
FBIT – Faculty of Business and Information Technology
FEAS – Faculty of Engineering and Applied Science
FEd – Faculty of Education
FHSc – Faculty of Health Sciences
FSc – Faculty of Science
FSSH – Faculty of Social Science and Humanities
Related links 
Quote
"The funding of these exciting new research projects further demonstrate Ontario Tech's evolving leadership role in Canada's research community . The range of discovery our leading experts will embark upon through this round of federal grants showcases the university's strategic research priorities, our unwavering commitment to innovation, as well as the robust research ties Ontario Tech enjoys with industry and community partners."
- Dr. Les Jacobs, Vice-President, Research and Innovation, Ontario Tech University
Media contact
Bryan Oliver
Communications and Marketing
Ontario Tech University
289.928.3653 (mobile)
bryan.oliver@ontariotechu.ca