Ontario Tech University's digital degrees: Another Canadian post-secondary first
Canada's tech-focused university strengthens its reputation for digital leadership and innovation
June 24, 2020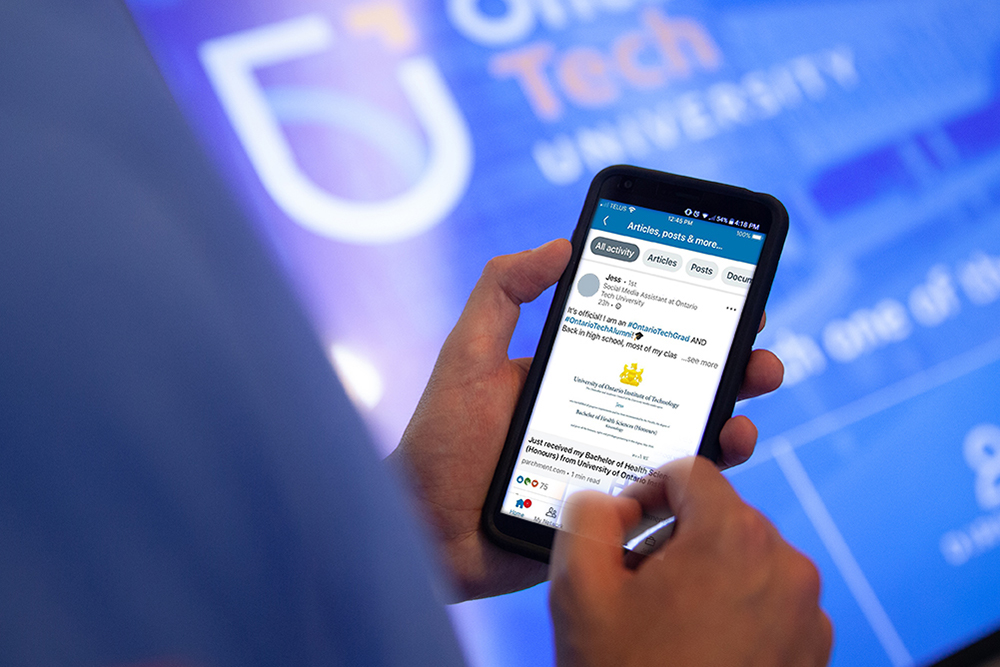 From the time of its founding shortly after the start of the millennium, Ontario Tech University has proudly stood out as a modern, forward-thinking university, championing a fresh post-secondary perspective that digital solutions are the way of the future.
Ontario Tech's contemporary approach to the university experience focuses on technology embedded in the curriculum, equipping students with the tools they need to make an impact in the modern workplace.
Through the high-tech fluency gained in their programs, graduates have the savvy to adjust to—and drive—inevitable changes in technology. Our 20,000+ alumni are proving this every day.
"From our inception, Ontario Tech has championed a very different ethos and can-do attitude around digital delivery: a modern outlook to meet the requirements of a rapidly changing world," says Dr. Steven Murphy, President and Vice-Chancellor. "With all universities preparing to be 'primarily online' for the near future, students and their parents need to ask themselves, 'Where do you want to get that post-secondary experience? Somewhere that is just figuring it out, or at a university that was conceived as a leader in technology?'"
This summer, Ontario Tech upholds its tradition of high-tech innovation, becoming the first university in Canada to give all graduating students digital degrees. In addition to receiving printed parchments, the class of 2020 can claim a digital version of their degree with secured and verified links.
"Ontario Tech's electronic parchment provides graduates the ability to securely verify and share their degree with employers and industry, and in social media," says Dr. Murphy. "In a tech-focused world, we are leading the way to ensure graduates from Ontario Tech have the digital solutions to keep them one step ahead."
Going forward: Ontario Tech is Ready for you
Beyond its stellar reputation for excellence in technology, there are many reasons Ontario Tech is the premier university for learning reimagined. Our Ready for you campaign outlines plans for the upcoming academic year, including our blended-learning advantage.
Top five reasons to come to Ontario Tech this fall
Our Student Experience Guarantee
 
Proven track record as Canada's tech-focused university



Technology is what we do and what we've always done.
Ontario Tech pivoted to online curriculum delivery in just one day at the beginning of the COVID-19 pandemic.
The Province of Ontario's Summer 2020 pilot project for students at some institutions to complete practical training components of their program in order to graduate was not required at Ontario Tech. Our students were able to complete all of their studies on time and graduate as scheduled. Many students in our Nursing program also graduated early to help Ontario's health-care system respond to the COVID-19 pandemic.



Stay local, stay home, stay safe



Our high-quality programs are recognized alongside some of the best in the world.
Benefit from maximum flexibility by staying close to home. Why travel far away when you can get a great education close to home in Durham Region and the eastern Greater Toronto Area?
Here you're not a number. We're not over-enrolled so you won't get lost and your experience won't be diluted.



Save money by studying close to home



No need to pay extra costs of going away to school.
With unprecedented government financial measures in place, now is the time to invest in your education.



This is your time, and Ontario Tech has space for you!



Limited spaces available in most of our programs.
Not an ideal time for a 'gap year' because:

Experiences abroad are currently limited.
Employment opportunities are currently limited.
Government supports are available now.
Information is easy to find:
Media contact
Bryan Oliver
Communications and Marketing
Ontario Tech University
289.928.3653 (mobile)
bryan.oliver@ontariotechu.ca