Global partnerships reinforcing Ontario Tech's research status and driving amazing opportunities for students
Faculty of Science researchers and graduate students present at virtual symposium with Japan's Kyushu Institute of Technology
March 28, 2022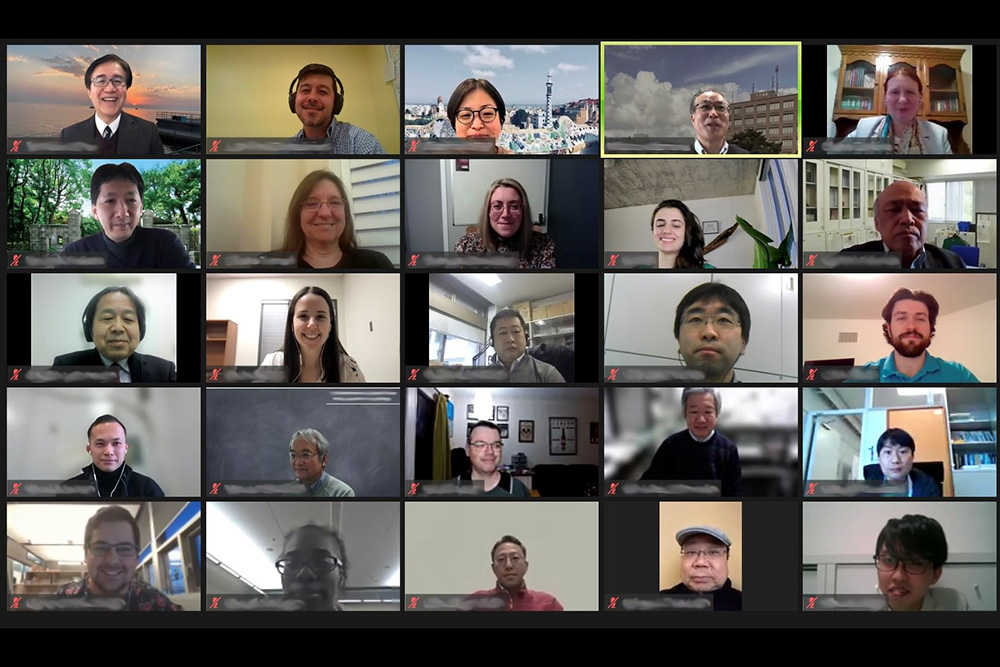 Even with COVID-19 travel restrictions in place, Ontario Tech University Chemistry faculty and students have kept the relationship strong with counterparts at Japan's Kyushu Institute of Technology (Kyutech).
Both institutions recently staged the fourth Kyutech-Ontario Tech University Symposium in Chemistry (March 7 and 8). Unable to gather in-person this year, the virtual Zoom event saw researchers and post-graduate degree candidates present their latest findings in chemical biology, forensic chemistry, organic chemistry, materials chemistry, and inorganic chemistry.
Since 2017, the strong partnership between Ontario Tech and Kyutech has sparked important research collaborations, such as Professor Jean-Paul Desaulniers' Faculty of Science lab developing and advancing new types of chemically-modified ribonucleic acids (RNAs) as potential medicines (joint-institutional research published in peer-reviewed journals: two in American Chemical Society (ACS) Publications in March 2022 and June 2020, and Chemistry Europe in July 2021).
Ontario Tech's symposium presenters included: 
Olena Zenkina, PhD, Associate Professor, Faculty of Science
Yuri Bolshan, PhD, Associate Professor, Faculty of Science
Raquel Simpson, Master of Science (MSc) candidate (Materials Science)
Ifrodet Giorgees, PhD candidate (Applied Bioscience)
Colin Elliott, PhD candidate (Applied Bioscience)
Jeffery Regier, PhD candidate (Applied Bioscience)
Muna Abdulaziz, MSc candidate (Materials Science)
Omik Patel, MSc candidate (Applied Bioscience)
Keenan Black-Araujo, MSc candidate (Materials Science)
Amanda Orr, Visiting PhD candidate from Trent University 
Quotes
"Over the past six years Ontario Tech's collaboration with Kyutech has generated an impressive academic signature of new scholarship, innovative research projects and an expanding legacy of journal publications. For our students, preparing to live and work in a globalized economy requires access to the kind of events this international partnership offers. This is what Ontario Tech is about, and we are proud of our students' outstanding contributions to this year's symposium."
-Dr. Jean-Paul Desaulniers, Professor (Chemistry), Faculty of Science, Ontario Tech University
"Congratulations to our faculty and students for their efforts to maintain our important partnership with Kyutech and keep it vibrant throughout the challenges of the pandemic. These ties exemplify the outstanding opportunities we offer our students to showcase their knowledge and discovery with the international community."
-Dr. Greg Crawford, Dean, Faculty of Science, Ontario Tech University
"Investing in international research partnerships is a vital component of Ontario Tech University's overall research imprint. We are building our strong reputation in part through long-established and highly valued collaborations like the one with Kyutech. These activities continue to propel Ontario Tech's growing status as a research-intensive university, which includes its recent designation as one Canada's research universities of the year."
-Dr. Les Jacobs, Vice-President, Research and Innovation, Ontario Tech University