We've got the power: Ontario Tech University installs its largest solar panel structure to date
Massive solar wall is the latest component of university's pledge to meet greenhouse gas (GHG) emission-reduction targets
March 23, 2022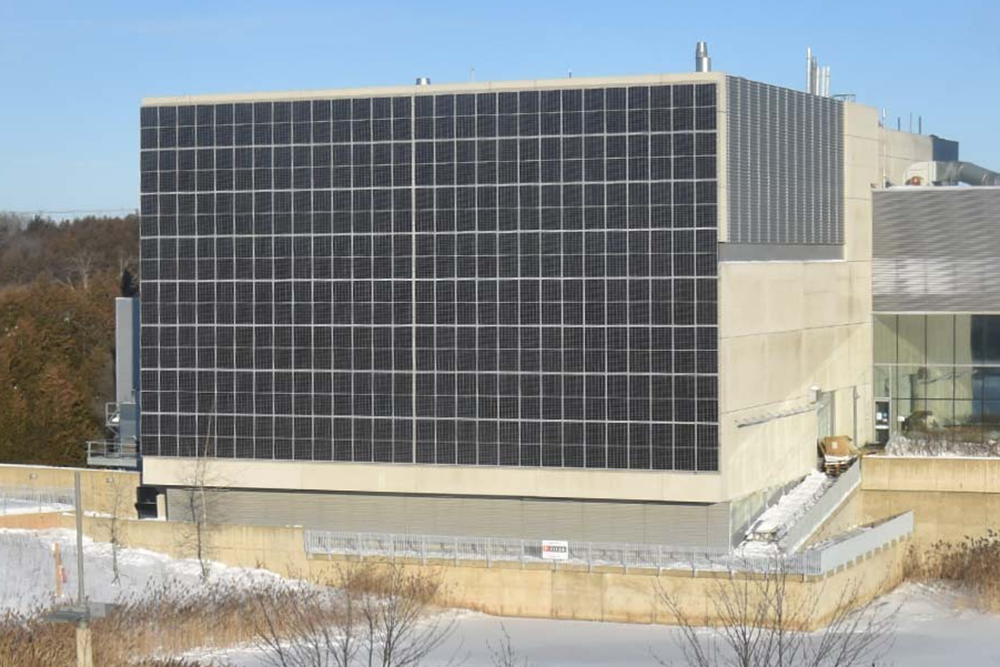 Ontario Tech University features some of the most impressive energy-efficient architecture in Canada's post-secondary sector, and its latest piece of energy infrastructure is a powerful new green initiative.
After three months of construction throughout the winter, in late February the finishing touches were placed on a gigantic five-storey solar retrofit 'façade' on the south exterior wall of ACE (Ontario Tech's Automotive Centre of Excellence).
Ontario Tech solar façade by the numbers
The sleek and distinctive 500 square metre (5,400 square foot) solar photovoltaic installation on the backside of ACE comprises 224 individual panels rated at 425 watts each. The system will produce 112,000 kilowatts of electricity annually for the Ontario Tech campus, enough energy to power 10 homes for an entire year.
Ontario Tech hired Fitzpatrick Electrical Contractor Inc. to complete the installation. The project is one of five Ontario Tech solar installations to date by the university's Office of Campus Infrastructure and Sustainability (OCIS). Another three solar installations are in development.
Ontario Tech's Race-to-Zero pledge and environmental legacy
Ontario Tech has a 'Race-to-Zero' pledge to reduce GHG emissions 50 per cent by 2030 and reach net-zero GHG by 2050. As part of this pledge, the university's goal is to increase renewable energy generation on campus to one megawatt annually through solar photovoltaic power.
Since opening its doors in 2003, efforts to champion energy efficiency and environmental stewardship have been a key part of the university's community narrative. In fact, energy efficiency considerations were a major part of the initial design of the university campus, with such features as:
Geothermal well system for heating and cooling of buildings.
Bioswales and stormwater ponds to manage storm runoff.
'Greywater' system that redistributes used freshwater from the Aquatic Toxicology Laboratory and roof rainwater harvest to flush toilets.
Energy recover systems in research buildings and the Campus Ice Centre.
Coated windows and building insulation.
'Green' rooftop gardens on buildings.
Extensive campus greenspace.
Among its many environmental accolades, Ontario Tech's sustainability-focused practices have earned the university multiple Gold rankings in the North American Sustainable Campus Index as compiled by the Philadelphia-based Association for the Advancement of Sustainability in Higher Education.
Quote
"In order to meet our Race-to-Zero target dates, we not only need to improve energy system efficiencies and reduce consumption on campus, but also increase renewable generation. Through our further efforts in recycling, waste diversion and beyond, Ontario Tech University is proud of its long list of campuswide efficiency measures and its award-winning legacy for initiatives in sustainability."
-Ken Bright, Director, Office of Campus Infrastructure and Sustainability, Ontario Tech University
Related links
Media contact
Bryan Oliver
Communications and Marketing
Ontario Tech University
289.928.3653 (mobile)
bryan.oliver@ontariotechu.ca
Gallery