Ontario Tech: A university with a clear commitment to sustainability
Long track record of environmental innovation highlighted through campus events
July 5, 2023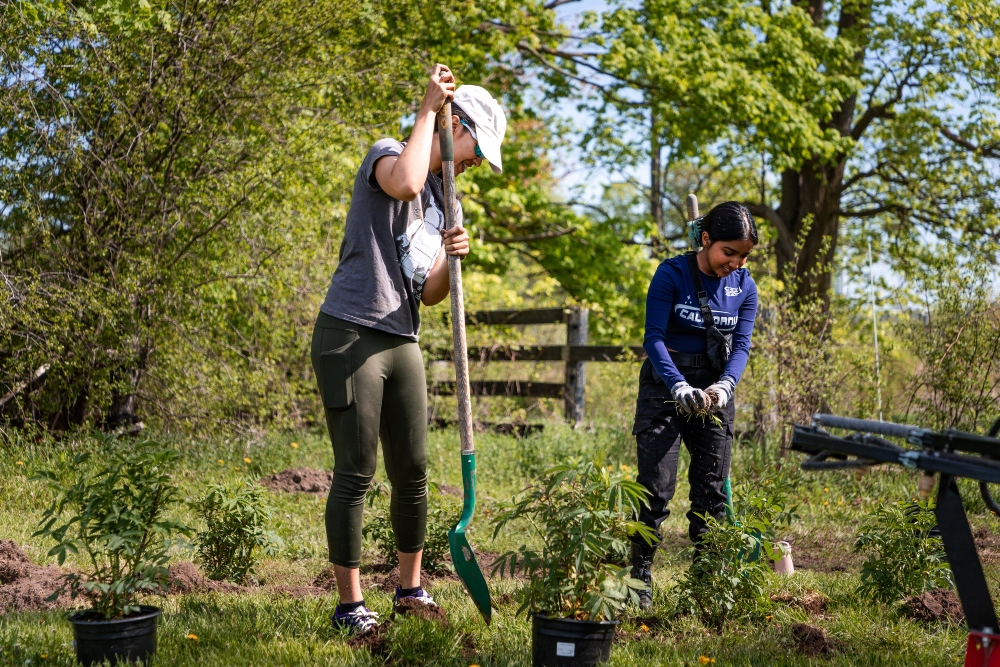 Over the last 20 years, Ontario Tech University has demonstrated a commitment to furthering environmental sustainability initiatives that improve the lives of humans and the planet. The university's Office of Campus Infrastructure and Sustainability (OCIS) focuses on strengthening 'green' initiatives on campus and in the community. These initiatives build a campus culture of sustainability while encouraging faculty, staff and students to engage with one another and build lasting connections.
In recent months, OCIS hosted a number of sustainability-related events for the campus community, including:
Tree-planting event
Since 2015, Ontario Tech has planted more than 22,000 trees on campus. Most of the university's new trees were planted as part of the Durham Region 5 Million Tree Program (Durham 5MTP), a component of the Ontario government's 50 Million Trees initiative administered by Forests Ontario. The Durham 5MTP was launched as part of the Durham Region Climate Change Local Action Plan, which established a series of key objectives to reduce greenhouse emissions by 20 percent, including the planting of five million trees across the Region of Durham's eight municipalities by 2023.
"Large forested areas act like 'carbon sinks': they absorb more carbon than they release," explains Isabel Savransky, Asset and Sustainability Planner, OCIS. "Through a process called carbon sequestration, mature trees are capable of absorbing more than 21 kilograms of carbon per year, or about a tonne over their lifetime, all while releasing oxygen in exchange. This plays an important role in mitigating climate change."
On May 5 and 13, a group of volunteers including students, alumni, and staff from OCIS and the university's Communications and Marketing department, planted a total of 30 trees and 40 elderberry shrubs at Windfields Farm lands (north Oshawa campus location) as part of the university's second tree-planting event of 2023. OCIS purchased this year's seedlings from Richardson's Farm in Kendal, Ontario, and Dutchmaster Nurseries in Pickering, Ontario.
"These types of activities provide long-lasting memories and build a sense of community at Ontario Tech," Savransky says.
Outside of Durham 5MTP, the university has planted approximately 1,300 trees in various locations on campus. It has also:
Created two orchards for apples, pears and nectarines.
Purchased three wildlife biodiversity packages containing various trees and shrubs.
Bought an additional 50 elderberry shrubs for wildlife.
The university plans to plant between 400 and 600 more trees before the end of 2023. Moving forward, two tree-planting events will take place each year, provided there is enough space on campus to plant them.
Campus Cleanup
Each spring, OCIS hosts a Campus Cleanup event to collect litter on and in areas surrounding Ontario Tech's north and downtown Oshawa campus locations. "The litter that accumulates over the winter can affect local wildlife and nature," says Savransky. "It's best to tackle it before local plants grow taller and it becomes more difficult to see and access the waste.
Participants in this year's Campus Cleanup event on May 9 (downtown Oshawa location) and May 11 (north Oshawa location) filled 21 garbage bags.
"Our goal is to remove as much waste from our environment as possible and inspire participants to pick up waste when they see it around their community and our campus," Savransky says. "In addition, events like Campus Cleanup create memorable experiences for faculty, staff and students, allowing them to connect with one another, and with community partners. These events help campus community members reconnect with nature and boosts productivity and their mental health."
Biodiversity Blitz
Shortly after joining the university in December 2022, Savransky began noticing various animal tracks on her walk into work. "I thought it would be a good idea to create a biodiversity inventory to begin tracking what types of animals, plants and fungi call our campus home," she says.
On May 24, OCIS partnered with the university's Healthy Workplace Committee to host the university's first Biodiversity Blitz, an on-campus event to help build the campus biodiversity inventory. Participants (faculty, staff and work-study students) signed up for account on the iNaturalist website (a joint initiative of the California Academy of Sciences and the National Geographic Society), and recorded the various plant and animal species they spotted at Windfields Farm lands, including:
10 bird species
One amphibian
One mammal
Two fungi
More than 10 plants
"Beyond teaching campus community members how to identify local species, the biodiversity inventory is also way for the university to collect data and use it when planning future capital development of the campus," explains Savransky.
OCIS plans to host Biodiversity Blitzes several times annually to keep the inventory as up-to-date as possible.
Check out the full list of species on campus by visiting the Ontario Tech University Biodiversity Inventory page on the iNaturalist website.
Invasive plants removed from campus and donated to feed rhinos at Toronto Zoo
On June 20, OCIS hosted an event to remove an invasive species of plant from campus.
Invasive phragmites (European Common Reeds) damage Ontario's biodiversity, wetlands and beaches. They outcompete native plants for water and nutrients and release toxins from their roots into the soil to hinder the growth of and kill surrounding plants. They also provide poor habitats and food supplies for wildlife (including several species at risk).
Eleven faculty, staff and student volunteers joined OCIS for the event near Polonsky Commons, collecting 13 bags of phragmites from rain gardens and near the stormwater pond.
The Toronto Zoo picked up the phragmites removed during the event and fed them to their rhinos.
Learn more about sustainability at Ontario Tech
Gallery