Micro-credentials: Your competitive advantage as modern workplaces evolve
Ontario Tech University marks its first recipient of the Core Success Skills Micro-credential
September 27, 2021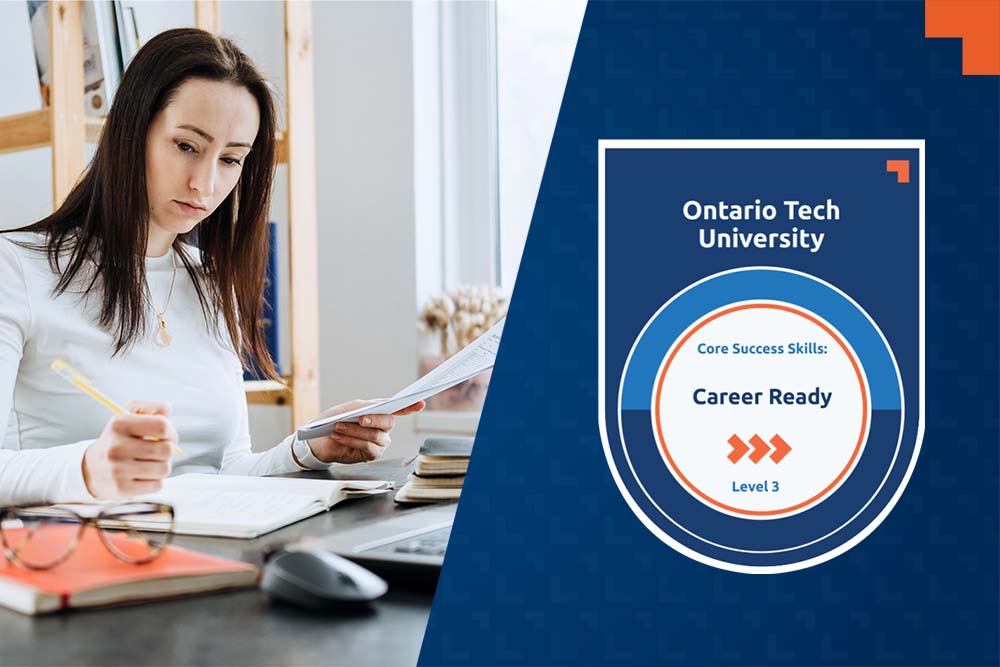 Modern labour markets are exceptionally demanding to navigate, and new trends can be difficult to predict or anticipate. Industries often have limited time to respond to rapid changes in technology. Prospective employees are left scrambling to adjust to dramatic shifts in labour supply and demand curves in order to prepare for the jobs of tomorrow.
Fortunately, today's workers have numerous options available to quickly upgrade their knowledge and showcase their new qualifications or professional development to a prospective employer: micro-credentials.
What are micro-credentials?
Micro-credentials are short, accredited online programs that represent new learning in a specific study field, topic or competency. After a micro-credential is completed, learners are awarded digital 'badges' that validate their newly acquired transferable skills.
Micro-credentials articulate skills to an employer that may otherwise remain unknown, affording job applicants the ability to express strengths that may remain unknown unless they connect directly through digital means or in-person. 
Badges can be added to your digital profile, with the trackable metadata immediately communicating your new achievements to any employer and differentiating you as an 'upskilled' job candidate.
Ontario Tech University offers a wide suite of micro-credentials that are flexible to meet the time demands of learners, and 'stackable', meaning that multiple micro-credentials can be combined into larger credentials. One such Ontario Tech offering is the Core Success Skills Micro-credential, with support from TD Group's Ready Commitment.
Spotlight: Ontario Tech's first Core Success Skills micro-credential recipient
Following a four-month journey navigating through exams, national competitions, and life itself, Ontario Tech University Computer Science student Benjamin D. Fedoruk became the first learner to complete all 25 badges of the Core Success Skills and be awarded the Career Ready Level 3 stacked micro-credential. This comprises short courses focused on transferable social skills and competencies, such as developing an awareness of transferable skills central to modern life, academic pursuits, and employment experiences.
Fedoruk learned about the micro-credential program on social media and recognized the opportunity would not only help him in his studies, but in any future career. Modules included: Flexible Thinking, Action Through Conclusions, Ideation, Design Thinking, Resilience, Curiosity, Design Iteration, and Storytelling.
While completing his stacked micro-credential over the spring and summer, Fedoruk was part of a student team that received support from Ontario Tech's Brilliant Catalyst Challenge for Rural Canada for a proposal focusing on supporting accessible environmentally friendly transportation for rural and Indigenous communities through public-private partnerships.
He was also connected to a student team that won a JMIR (Journal for Medical Internet Research) Infodemiology Innovation Award through the STEM (Science, Technology, Engineering, Mathematics) Fellowship, for developing an algorithm to reduce the spread of misinformation on social media. He also was part of another team that placed second in a student competition to propose an optimization strategy for carbon pricing models. 
Quote
"The value these courses provide will truly last a lifetime; I know my learning will have long-lasting ripples into my future career. I suggest that any student interested in gaining skills, bolstering career opportunities, or simply learning more about key skills for the 21st century, take advantage of this amazing program."
-Benjamin D. Fedoruk, second-year Computer Science student, Ontario Tech University
Related link
Archived Ontario Tech news items related to micro-credentials
---
Media contact
Bryan Oliver
Communications and Marketing
Ontario Tech University
289.928.3653
bryan.oliver@ontariotechu.ca