Ontario Tech continues to affirm international leadership on nuclear energy research and development
University a key participant at a recent International Atomic Energy Agency workshop in China
September 14, 2023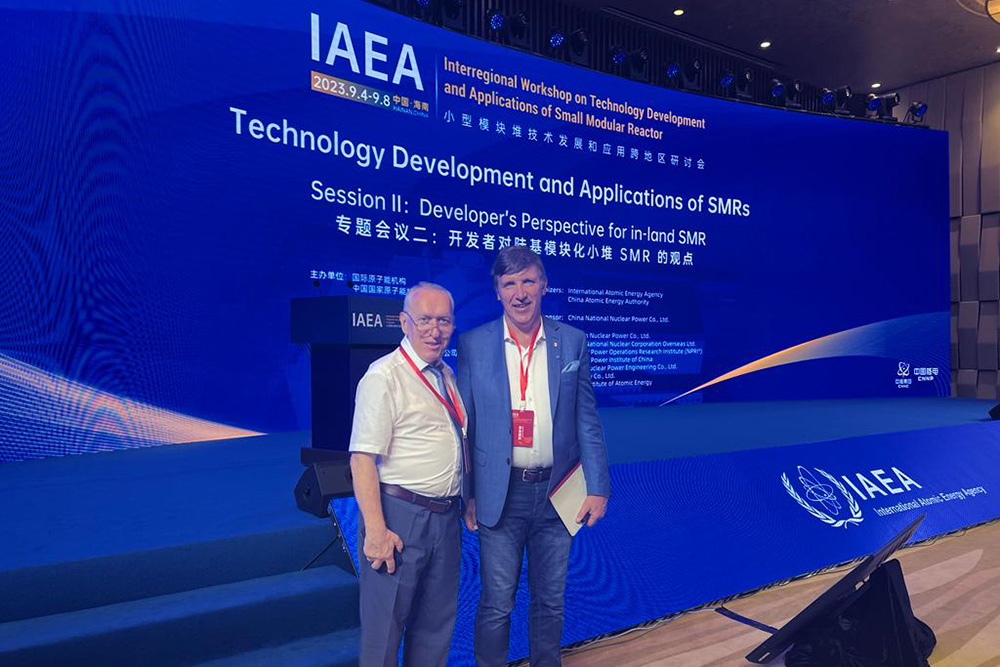 At a time of rapid new developments in the global nuclear industry related to the advent of small modular reactor (SMR) technologies, Ontario Tech University remains at the forefront of energy-sector research, technological advances and talent development. The university is home to the Centre for Small Modular Reactors and has faculty members leading funded SMR research programs.
In early September, the International Atomic Energy Agency (IAEA) welcomed delegations from 55 countries to an Interregional Workshop on Small Modular Reactors in Sanya, China. The event provided a platform to enhance knowledge and understanding of technological readiness of SMR designs, relevant safety and security aspects and licensing approaches.
What are the advantages of SMRs, and when will they be operational?
SMRs are compact, simplified, factory-assembled reactor designs with inherent safety features. In addition to generating carbon-free electricity, SMRs are seen as a prime sustainable pathway to supply off-grid heat and power for heavy industries, as well as providing power, district heating, and desalination in remote communities.
In Ontario, the Darlington New Nuclear Project, fronted by OPG, is leading the way in the advancement of SMRs in Canada, with one unit expected to be operational by 2029 and three further reactors planned for the 2030s, pending regulatory approvals.
Fast fact: The total output of the Darlington New Nuclear Project would be 1,200 megawatts: enough electricity to reliably and safely power about 1.2 million homes, and help Ontario meet increasing demand from electrification (source: OPG).
Ontario Tech's long-established role in clean and green energy research and development
Recognizing Ontario Tech's strong legacy as a vital contributor to nuclear engineering research, scholarship and education, in 2021 the IAEA designated the university its official Collaborating Centre for Canada.
The scope of the IAEA Collaborating Centre covers integrated energy systems with advanced nuclear reactors with focus on SMRs as well as hybrid nuclear-renewable energy systems and their multipurpose applications. This includes hydrogen production, desalination, district heating and cooling, along with other industrial applications. It also covers the role of such systems towards climate-change mitigation.
At the IAEA Workshop in China, Dr. Les Jacobs, Director of Ontario Tech's IAEA Collaborating Centre for Canada, was one of 25 delegates invited to present to the full assembly.
"I was able to share the Ontario Tech clean energy research story and the unique role our university plays within the Canadian and global nuclear industry," says Dr. Jacobs. "The hosts also provided an opportunity to visit the construction site of the first-of-a-kind SMR demonstration project in Changjiang, China where a new integrated reactor module was just recently installed. The future of nuclear is indeed upon us, and the timing is critical as the world searches for much-needed new energy sources that deliver net-zero carbon emissions."
The Department of Energy and Nuclear Engineering (within Ontario Tech's Faculty of Engineering and Applied Science) offers Canada's only undergraduate Nuclear Engineering program. 
Selected links related to nuclear energy expertise at Ontario Tech
Media contact
Bryan Oliver
Communications and Marketing
Ontario Tech University
289.928.3653 (mobile)
bryan.oliver@ontariotechu.ca
Gallery