Faculty reputation, outreach and achievement highlight National Engineering Month
March 28, 2018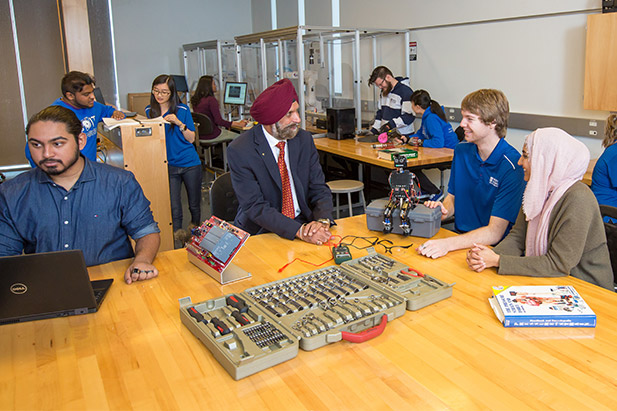 Each March, the country's engineering community hosts more than 500 events to inspire the next generation of problem-solvers and showcase how rewarding an engineering career can be. 
The Faculty of Engineering and Applied Science (FEAS) at the University of Ontario Institute of Technology has much to celebrate in parallel with National Engineering Month in Canada. Through its market-oriented accredited programs, co-ops and internship programs, international exchanges, placements and student clubs and organizations, FEAS is preparing young engineers to excel in the 21st-century workplace and contribute to society.
FEAS researchers are making significant research contributions in basic scientific discoveries and uncovering innovative solutions to address local, national and global issues. In addition to patented solutions, faculty research activities are disseminated in international conferences and journals and contribute to raise the reputation of engineering at the university.  
Recent FEAS research patents (since 2014)
Internally supported modular and non-modular linked structures (Scott Nokleby, PhD and Remon Pop-Iliev, PhD; Canadian patent)
Method and system for high-speed power source transfer (Tarlochan Sidhu, PhD; U.S. patent)
Pneumatic power and drag system (Ibrahim Dincer, PhD; U.S. patent)
Self-propelled rotary tool (Hossam Kishawy, PhD; U.S. patent)
Production of hydrogen from water using a thermo-chemical copper-chlorine cycle (Kamiel Gabriel, PhD; U.S. patent)
High-voltage junction box for the transportation industry; low-cost and fail-safe design (Mohamed Youssef, PhD; U.S. patent)
Rapid rotational foam molding process (Remon Pop-Iliev; U.S. patent)
Growing reputation
Student success
New infrastructure
 Community engagement and international exposure
For information about FEAS degree programs and upcoming events, visit engineering.uoit.ca.
Quote
"The Faculty of Engineering and Applied Science at the University of Ontario Institute of Technology is proud to celebrate its many highlights and achievements as part of National Engineering Month. Our graduate success, research achievements and our consistently high program rankings underscore the strength of our high-calibre programs. We are producing tomorrow's engineering leaders. Whether you are an undergraduate or a graduate student, if you want to study engineering Canada, this is one of the best places to be."
-Tarlochan Sidhu, PhD, Dean. Faculty of Engineering and Applied Science