UOIT celebrates National Engineering Month
March 24, 2015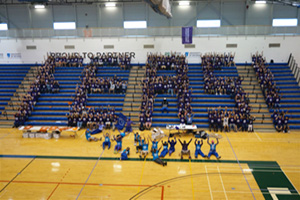 March is National Engineering Month in Canada – it's a chance to celebrate engineering achievements; inspire the next generation of problem-solvers; and contribute to an exciting new direction for the profession. More than 500 events take place throughout the month from coast to coast, with the goal of teaching young Canadians about the exciting, fun and rewarding world of engineering.
The University of Ontario Institute of Technology (UOIT) salutes all of the students, alumni and faculty who have been a part of its Engineering program since its inception.
"The Faculty of Engineering and Applied Science at the University of Ontario Institute of Technology is quickly becoming one of the foremost engineering and applied science centres in Canada," said Dr. Tarlochan Sidhu, Dean. "Our reputation for engineering excellence has been bolstered by our innovative programs at both undergraduate and graduate levels, as well as our high-calibre and value-added research. All of this enables us to prepare our students to be productive professionals and leaders of tomorrow. We proudly celebrate all of these achievements during National Engineering Month."
Through its co-ops and internship programs, international exchanges and placements and student clubs and organizations, UOIT's Faculty of Engineering and Applied Science (FEAS) is preparing students to excel in the 21st-century workplace and contribute to society. Some alumni, like Chris Wilkinson, Electrical Engineering, class of 2014, have even been able to use their skills overseas in humanitarian work.
Faculty members are also making significant research contributions that are opening the doors to innovative solutions that address local, national and global issues. For example, as Canada Research Chair in Advanced Robotics and Automation, Dr. Dan Zhang is focused on the next-generation of industrial robotics -- innovations that help to perform tasks faster, more accurately and with greater adaptability to changing work assignment and conditions. Using his parallel robotics research, he is also developing wearable exoskeletons — robotic suits that can be used to augment human movement and retrain the bodies of people who face mobility issues due to injury or illness.
For more information about FEAS degree programs and upcoming events, please visit engineering.uoit.ca.
Upcoming Engineering-related events at UOIT:
Engineering Research Day – Thursday, March 26
Go CODE Girl – Saturday, March 28
10th-annual Popsicle Stick Bridge Building Competition – Saturday, April 4
Recent Engineering-related news highlights: