In retrospect: Ontario Tech University in 2021
December 17, 2021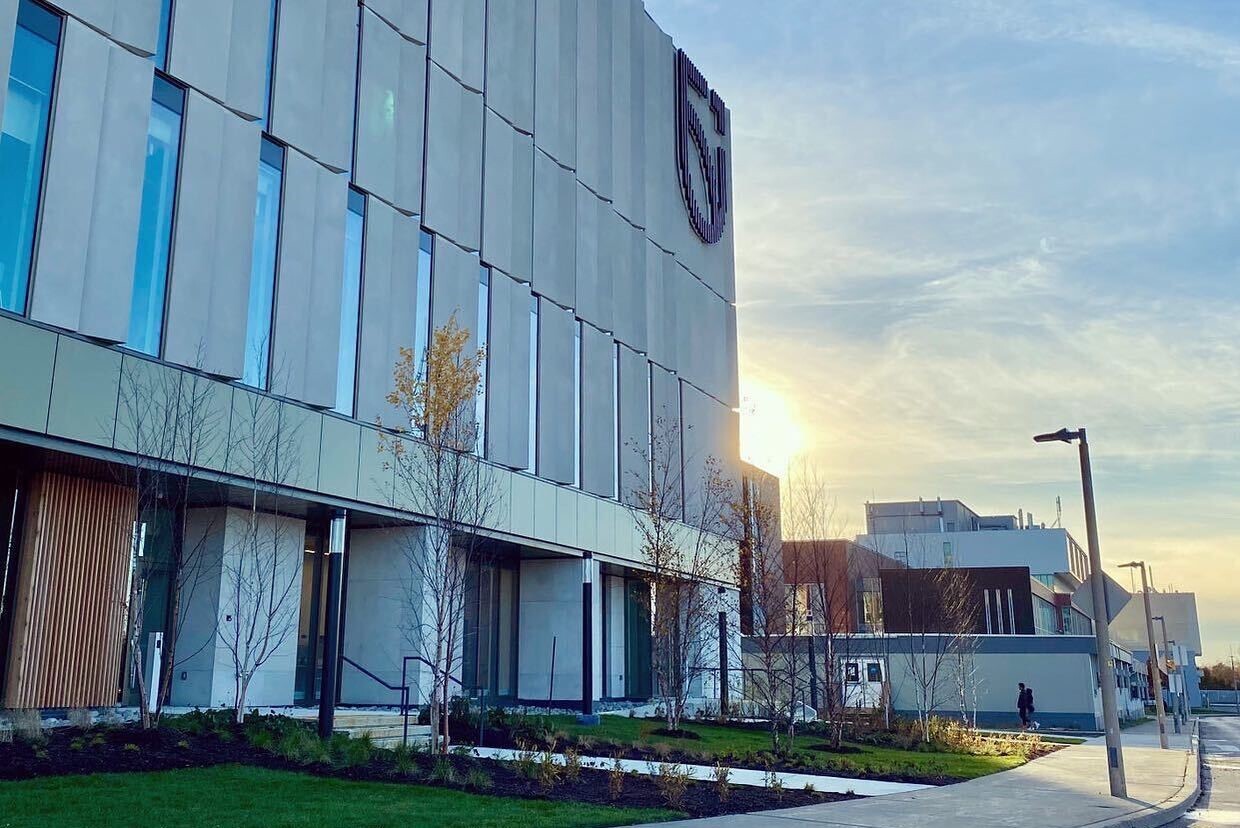 As Ontario Tech looks ahead to new opportunities and innovative approaches in the discovery and application of knowledge in 2022, the university reflects on moments and milestones from the past year.
The challenges posed by the second year of the COVID-19 pandemic required the university to continue adapting operations and creatively apply its capacity and strength in technology to maximize the remote learning experience.
Solutions responding to the COVID-19 pandemic
Researchers continued to work with Region of Durham officials and other centres in Ontario to test wastewater samples as part of provincial network to detect early traces of COVID-19 in local communities, helping health experts track cases and make informed decisions. Ontario Tech also became a vital focal point in the community effort against COVID-19 as the Campus Ice Centre became home to a major regional vaccination clinic. Ontario Tech's ACE partnered with SmartCone Technologies on system testing for high-tech health screening systems. The Faculty of Education staged a week-long Teaching and Learning with Technology Conference to help teachers everywhere to learn about best practices as they prepared for all classroom eventualities during the new academic year.
New campus infrastructure
One of the most significant changes at Ontario Tech in 2021 was the completion of Shawenjigewining Hall, the university's newest building. The campus also joined organizations across Canada on September 30 for the National Day for Truth and Reconciliation, with a range of events and opportunities organized by Indigenous Education and Cultural Services. In addition, the university gratefully received renewed support from longtime benefactor OPG and a major donation from Tribute Communities.
Equity, diversity and inclusion
Ontario Tech joined Canada's post-secondary community in committing to the principles and objectives of the Scarborough Charter on Anti-Black Racism and Black Inclusion in Canadian Higher Education. The Women for STEM Summit also affirmed the university's commitment to inclusion and its efforts to empower women in higher education through scholarships mentorship, and the celebration and promotion of achievement.
In 2021, Ontario Tech's growing reputation and influence was recognized through strong results in the Maclean's magazine rankings of Canadian universities, and impressive showings in international rankings pertaining to research and discovery. Two researchers also placed in the top one per cent globally for academic citations.
Influential research and development continued to thrive across campus, in such areas as artificial intelligence (AI) to prevent accidental falls, AI technology and mental health supports, small modular reactors for the nuclear industry, data visualization to raise awareness about the pain of sexual harassment, a micro-housing project collaboration with the Region of Durham, new technologies to stream live data from the Moon that will monitor astronauts' health analytics in real-time, and a four-legged robot called 'Spot' to investigate remote-inspection effectiveness in industrial areas that may be hazardous or difficult for humans to access.
Climate action: Thinking globally, acting locally
In conjunction with the United Nations Climate Change Conference (COP26) in Scotland, Ontario Tech joined more than a thousand universities in 68 countries in a pledge to half their emissions by 2030 and reach net-zero by 2050. On campus, Ontario Tech is the lead academic institution for Project Arrow, a national project to develop the prototype for a made-in-Canada zero-emissions electric vehicle.
Transportation remains a huge area of research and development at the university. Among developments in 2021, SmartCone Technologies tested pedestrian safety for autonomous vehicles inside the ACE Climatic Wind Tunnel, and the university participated in the annual Future Transportation and Mobility Series event to explore the latest ideas on the autonomous vehicle front.
Student success and creativity
Students carried the Ontario Tech banner and again captured accolades in a variety of external competitions such as: the National Design League, Ubisoft Toronto NEXT competition, Womxn Develop at Ubisoft, the Enactus Canada National Exposition, and the SAP University Challenge packaged goods competition, to name just a few. Others found creative ways to uphold the university's 'tech with a conscience' mantra by developing a mental health app for first responders, examining the impact of social media on mental health, or carrying out a tech drive to collect used modern devices for older adults in the community.
Through the university's ACE (Automotive Centre of Excellence), Ontario Tech announced an agreement with FEL Motorsports that will connect students to hands-on practical experiences and co-op placements in the auto-racing industry. The university received new funding to support work-integrated learning opportunities for under-represented students through Co-operative Education and Work-Integrated Learning Canada.
Health Science PhD student Leanne Elliot won a coveted Vanier Canada Graduate Scholarship to support her work exploring enhanced perceptual motor skills among first responders.  
Learning re-imagined
Ontario Tech announced new graduate programs (Doctor of Education and Master of Business Analytics and Artificial Intelligence), a new certificate program with the Charles H. Best Diabetes Centre, and a wide range of micro-credential programs aimed at helping displaced workers re-train and upskill to meet the demands of rapidly changing labour markets.
High energy on campus
It was a year where Ontario Tech forged new academic and community partnerships, joining such enterprises as the Environmental and Related Technologies Hub (EaRTH) to help advance climate-action solutions in the Eastern GTA.  
The university reasserted it national leadership role in clean-energy research and low-carbon energy solutions through the creation of the Brilliant Energy Institute (BEI) and the naming of the Nicholas Sion Laboratories for energy research. Almost immediately, BEI launched a new partnership with the Canadian Global Affairs Institute's Energy Security Forum. Ontario Tech also became the first Canadian Collaborating Centre of the International Atomic Energy Agency this year.
New research endeavours and partnerships
The university's renewed Integrated Academic-Research plan, aligned with Ontario Tech's new vision, mission and values, supports a widening portfolio of impactful research that generated $23.5 million in 2020-2021 income, representing an increase of more than 40 per cent. Two new Canada Research Chairs joined the university, extending Ontario Tech's expertise in adaptive aerodynamics, and trustworthy artificial intelligence.
Among the many milestones of 2021, Ontario Tech announced the creation of the Institute for Disability and Rehabilitation Research with the Canadian Memorial Chiropractic College, new partnerships with the CNIB Foundation and Canadian Football League Players' Association, as well as a high-performance computing research effort in the ACE Climatic Wind Tunnel with Glasshouse Systems and the University of Miami on building municipal information technology resiliency during severe weather events. Researchers are also developing new technologies to expand coding camp accessibility for youth with vision loss.