Looking back, looking forward: Ontario Tech University in 2022
December 20, 2022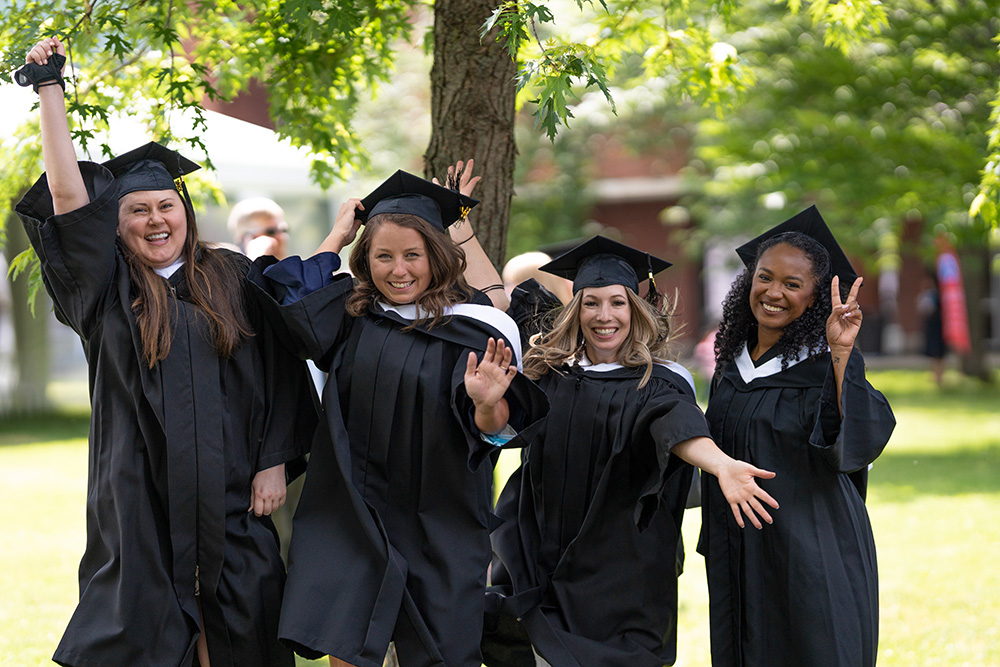 Ontario Tech has carved out a powerful niche in Canadian post-secondary education. The university's more than 25,000 degree-holders (undergraduate and graduate) are making their mark in the modern workplace. A strong team of academics hailing from around the globe call Ontario Tech home as they advance knowledge and discovery and contribute to the university's impressive research imprint.
As the university reaches the midpoint of its 20th academic year, we look back at a few highlights from 2022:
High energy on campus
Convocation is one of the most celebrated Ontario Tech events. This year, the university began a new tradition—hosting the ceremony outdoors on Polonsky Commons.


Ontario Tech's Brilliant Energy Institute gained momentum as it builds upon the energy research and expertise at the university to meaningfully contribute to Canada's leadership in reducing carbon emissions, and to strengthen energy sector outcomes regionally, provincially and nationally, here at home. 


The Chancellor's Challenge 5 km event brought the campus community together to raise funds to support students. This year's challenge raised almost $80,000 which is matched by the Board of Governor's Matching Fund, creating $160,000 for student scholarships and bursaries.
Ontario Tech: Where students want to be
Research activities and appointments
Ontario Tech's research portfolio continued its upward trajectory for earning new funding for collaborative projects with government, industry and community partners; breaking new ground in such areas as dementia care, nuclear science research, sodium intake, technology to determine optimal routes for snowplows and waste-collection fleets, and aviation research; and advancing well-established work in community wastewater sample testing for traces of COVID-19, biological monitoring in freshwater, and applications for deploying technology solutions for health care in remote communities, including space travel.


A team of three researchers representing three faculties shared their expertise and innovative findings in the nation's capital at the Science Meets Parliament Showcase. Numerous new provincial, national and international research appointments and grants were received by Ontario Tech experts, including a UNESCO Research Chair, funding for studies focused on race, gender and diversity, and connections to the Gulbenkian Foundation Prize for tackling the biodiversity and climate crisis. 
Community connections through partnerships
Student success and creativity
Through their embedded experiential learning opportunities, students continually demonstrate their knowledge, skills and savvy in the community and beyond. Among the many standouts of 2022, Master of Health Sciences (Kinesiology) student Emmeline Meens Miller not only won Ontario Tech's annual Three Minute Thesis (3MT) title, but also went on to become the university's first-ever provincial 3MT champion.


Bachelor of Commerce students Hannah Oegema and Colleen Linton won the Human Resources gold medal at a major business competition hosted by Queen's University. Health Sciences PhD candidate Jackie Brown was named the university's first-ever recipient of a Canadian Institutes of Health Research Doctoral Research Scholarship.


Donor-funded initiatives at the university flourished through gifts such as one from the Herman Kassinger Foundation, and such programs as Women for STEM, which matches women students with community mentors and industry partners, to help them succeed in a career in science, technology, engineering and mathematics. The university joined the national Indigenous and Black Engineering and Technology PhD Project to provide financial support and foster a supportive, equitable and inclusive research and academic environment. Ontario Tech also established an international emergency bursary, to support students from countries experiencing war or environmental catastrophe.
Thinking globally, acting locally
Upholding its tradition of uncovering community-based solutions to societal challenges, and promoting technology for ethical purposes, Ontario Tech hosted a substantial number of workshops and roundtables including:
Special 2022 milestones